"This is a combination of different recipes I have tried. =) If you can't find the panko crumbs, regular bread crumbs will do just fine."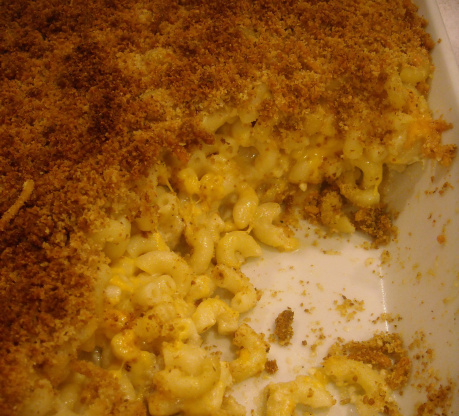 Baked Macaroni and Cheese
1 recipe photo
Directions
Preheat the oven to 350 degrees.
In a large pot of boiling, salted water cook the pasta for 6 minutes.
While the pasta is cooking, in a separate pot melt the butter. Whisk in the flour and dry mustard and keep stirring for about 5 minutes. Slowly add the milk and keep stirring. Simmer for about 10 minutes. Put about 3/4 cup of sauce in a bowl and temper in the egg when it has cooled slightly. Add this mixture back to the sauce along with 2 1/2 cups of shredded cheddar cheese. Season with salt and pepper. Fold the macaroni into the mixture and pour into a 2 quart buttered casserole dish.
Melt the remaining 2 tablespoons of butter in a small saucepan. Add the panko crumbs and remaining cheeses. Spread this mixture over the top of the macaroni and cheese.
Bake for 30 minutes. Remove from oven and rest for 5 minutes before serving.