"This macaroni and cheese features a creamy sauce and crisp topping. A great macaroni and cheese requires perfect melding of the pasta and the cheese sauce. To get that, you'll need to ignore conventional wisdom about cooking pasta until just tender (al dente). To help the cheese sauce stick to the pasta, the macaroni is cooked until just beyond al dente, which makes it more absorbent and starchier. This recipe calls for a 3-quart casserole dish, but multiple smaller baking dishes could be used. I clipped this recipe from a newspaper."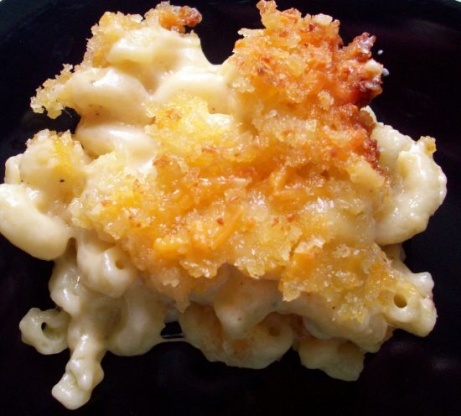 Baked Macaroni With Three Cheeses
3 recipe photos
READY IN:

45mins

SERVES:

6

UNITS:

US
Directions
Heat the oven to broil.
Use 1 T of butter to generously coat a 3-quart casserole dish.
Bring 6 quarts of water to a boil in large stockpot.
Add 2 T of salt, stir briefly, then add the pasta.
Cook until tender and just past al dente, about 10-13 minutes, or slightly longer than package directions.
Drain the pasta, then transfer it to a large bowl.
Drizzle the olive oil over the pasta, then toss to coat; set aside.
To make the sauce, in a small saucepan over low heat, bring the milk to a simmer.
Remove the pan from the heat.
In medium saucepan over medium heat, melt 1/2 cup of the remaining butter, using a whisk to swirl it to ensure the butter melts completely and does not turn brown.
If the butter begins to brown, lower the heat.
While whisking, sprinkle in the flour.
Continue to whisk until the mixture just bubbles, about 2 minutes.
Do not let the mixture brown.
While whisking, slowly pour the milk in the saucepan.
Continue whisking until there are no lumps.
Bring the sauce to a boil, then reduce the heat to low and season with salt and pepper.
Continue whisking until the sauce reaches the consistency of heavy cream and coats the back of a spoon, about 2 minutes.
Remove the sauce from the heat.
Whisk in 1 1/2 cups of the cheddar cheese, all of the Monterey Jack cheese and 1/2 cup of the Parmesan cheese.
Whisk until the cheese is completely melted and the sauce is smooth.
Pour the sauce over the pasta and gently toss to coat.
Transfer the pasta and sauce, using a rubber spatula to scrape the bowl, to the prepared casserole dish.
Set aside.
In small microwave-safe bowl, melt the remaining 1 T of butter by microwaving on high for about 20 seconds.
Add the breadcrumbs and remaining cheddar and parmesan cheeses; toss well.
Spread the bread crumb mixture evenly over the pasta.
Place the dish on the oven's middle rack and broil for 6-8 minutes, or until the edges are bubbly, and a crunchy crust forms on top.
Cool briefly before serving.