"My own invention -- the white sauce base comes from the Boston Cooking School's Potatoes Delmonico white sauce but I have additionally added in the Parmesan cheese, bacon, and the chopped artichoke hearts. So, really, it's actually a "mock" carbonara sauce which is quite easy to prepare. This is a very elegant and impressive entree but it can be knocked out with very little stress on the chef if the ingredients are all measured out in advance. Prepare youself for some MAJOR FLAVOR with this one!"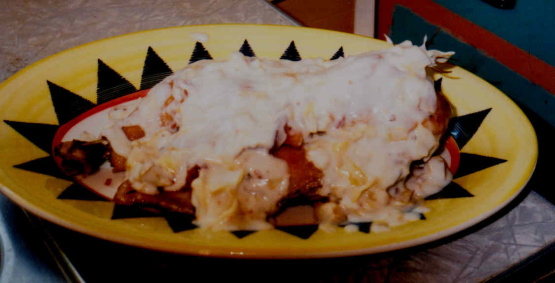 Baked Rosemary Chicken in Artichoke-Carbonara Sauce
1 recipe photo
READY IN:

3hrs 30mins

SERVES:

4

UNITS:

US
Directions
Trim the chicken and cut it in half longways so that it will lie fairly flat, (I use a large, sharp French knife to cut through the breast side in two first, then I flip it over and rock my knife with pressure down the backbone until I have two halves).
Strip most of the rosemary leaves from the sprigs (leaving leaves on the tips) and mince the leaves. Save the stems. Place the minced rosemary leaves into a small bowl.
Mix the sea salt and the 1/2 teaspoon of white pepper into the bowl with the minced rosemary. Rub this blend on the two chicken halves, on both sides of each. Shove the rosemary stems into the chicken breasts.
Attach two raw slices of bacon to the top of each chicken half with toothpicks.
In a roasting pan, with a grill in the bottom to slightly elevate the chicken, pour in the one cup of water (it should not actually touch the chicken). Lay the chicken halves on the grill and toss in the celery chunks. Pour the four tablespoons of melted butter slowly over the chicken halves, cover the roaster pan, and place into a pre-heated 300-degree F. oven for 2 hours.
Twenty minutes before the chicken comes out of the oven, make the white sauce over a double boiler, (I improvise a double boiler by using a cooking pot with three cups of boiling water in the bottom and set a stainless steel salad bowl on top to mix the sauce in.).
Melt the butter (the 4 tablespoons for the sauce) in the double boiler. Slowly whisk in the Wondra flour, table salt and the 1/4 teaspoon of white pepper. This makes a gooey, off-white roux.
Next, slowly whisk in the pre-warmed milk and bring to a slow boil if possible (sometimes this is hard to do -- don't worry if it doesn't boil.) Use a little more milk if necessary to make the sauce like a very thin pancake batter and maintain heat for about 15 minutes, whisking frequently. The sauce will thicken as it heats.
Add the Parmesan cheese, then the chopped artichokes, then the crumbled bacon and maintain heat for 5 more minutes, stirring carefully.
At the end of the 5 minutes, take the sauce off the heat and plate up the chicken (no celery unless desired for garnish). Remove the toothpicks from the baked chicken (you could also create your 4 portions at this point) and, pour the sauce over it. Top the sauce with a garnish of the dried parsley and serve.
The side dishes I offer up with this dish are egg noodles with a little minced fresh garlic and butter in them (or, you could serve rice) and, steamed peas.