"These are just good. Not spicy but very savory baked fries. I love them because there is no frying but still crunchy. The dip is a nice sweet and savory flavor which really makes these unique."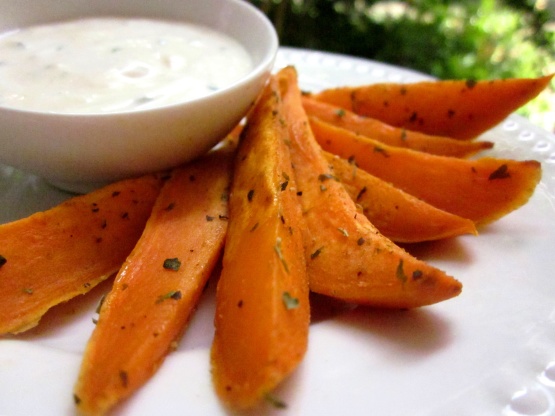 Baked Sweet Potato Fries With Garlic, Lime & Honey Dip
1 recipe photo
Directions
Potatoes -- Two important things to note when making these. First. Cut all the fries approximately the same size. Second, make sure to cook directly on the cookie sheet. No foil or parchment paper. After cutting the sweet potatoes fries add to a medium size bowl with the olive oil and seasoning and toss well to combine. Add to the cookie sheet and make sure then are not laying on top of one another. They need some space so they can brown up.
Bake -- In a 425 degree oven bake them for 15 minutes and then flip. Guys, they will be soft, they aren't done but be careful flipping them. Bake another 20 minutes until crispy.
Dip -- As the fries bake, make the dip. Just mix it all in a small bowl and refrigerate. Nothing more. Grating the onion is important as it gives you a lot more flavor. Just enjoy, these are a great change from the average french fries.