"This is my version of the popular Greek sweet after some experimentation with ingredients and quantities. I no longer remember which site I got the original recipe that I began modifying from, but it's wonderful. Made with care, this results in a rich, flaky and absolutely delicious treat."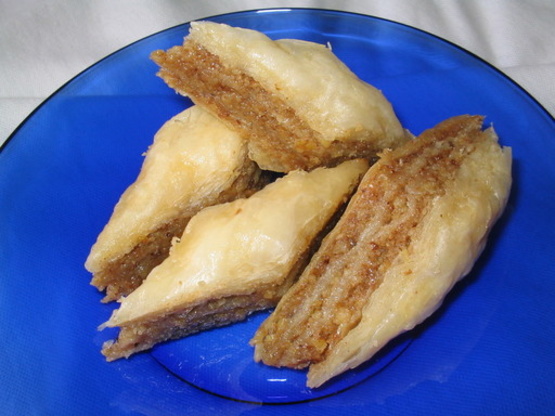 Directions
For filling, stir together walnuts, ½ cup sugar and the cinnamon in a mixing bowl. Set aside.
Preheat oven to 325°F.
Brush a 15x10x1 -inch baking pan (I use a cookie sheet) with some of the melted butter.
Unfold phyllo dough. Keep phyllo covered with plastic wrap and a damp towel, removing sheets as you need them. Contact with air makes the phyllo sheets brittle.
Layer 10 of the phyllo sheets in the pan, generously brushing each sheet with melted butter as you layer. If any sheet breaks or tears, don't sweat it - you won't see it in the final results. Just try to keet the layers even and the top layers intact.
Sprinkle 1/3 of the filling on top of the phyllo.
Repeat layering and filling steps two more times (using 9 sheets for each of the middle layers).
Layer remaining phyllo (12 sheets) on the final filling layer, brushing each sheet with butter before adding the next sheet. Drizzle top phyllo sheet with remaining butter.
Trim edges to fit pan if necessary (I don't).
Using a sharp knife, cut through all the layers to make elongated diamond shaped pieces. Try to avoid cutting through to the bottom layer.
Bake for 45 minutes or until golden.
Cool in pan on a wire rack.
Meanwhile, for the syrup, bring the remaining 1½ cups sugar, 1 cup water, honey, lemon peel, lemon juice, and stick cinnamon just to boiling in a medium saucepan.
Reduce heat; simmer, uncovered for 20 minutes.
Remove cinnamon.
Pour hot mixture over cooled baklava (see note below).
Cut along pre-made marks and sprinkle chopped walnuts on the top.
NOTE #1: Baklava will keep in an airtight container for a couple of days, but I find that the walnuts in the filling tend to go rancid rather quickly. If they won't be eaten right away, it's best to freeze them.
To freeze - flash freeze individual pieces on a cookie sheet. When frozen, pack into a ziplock bag and store in the freezer. Thaw on the counter until soft before serving.
NOTE #2: I use the Athens brand of phyllo sheets, so there are 40 9"x14" sheets. If you're using these sheets, there may be too much syrup so use only about 3/4th of the recipe.
NOTE #3: If you're using the old kind, bigger sheets the quantity of syrup the recipe makes is probably needed. You're also going to have fewer sheets so layer accordingly.