Want more from Genius Kitchen?
Watch on your Apple TV, Roku, or Fire TV and your iOS, Fire, or Android device.
Learn More
"A friend and I made this baklava when we were kids in 4H. I've been making it ever since. For those who have never worked with Phyllo dough, don't be scared of this recipe! Sometimes the Phyllo can be naughty, but you can always slap another layer over it. Once you open the package of phyllo, cover it with a damp towel or paper towels to keep it from drying out. This is not difficult to make but it IS time-consuming, so I like to make 2 trays at once. My brother always requests this when he visits, and I send him home with a tray full and then have some left to give away. This is quite an impressive recipe to make, as most people have never had homemade baklava and can't believe you'd go to the trouble to make it. But let's be clear....it's not low-fat. It's not healthy. It is a guilty pleasure and a damn good one! Good luck and happy baking!"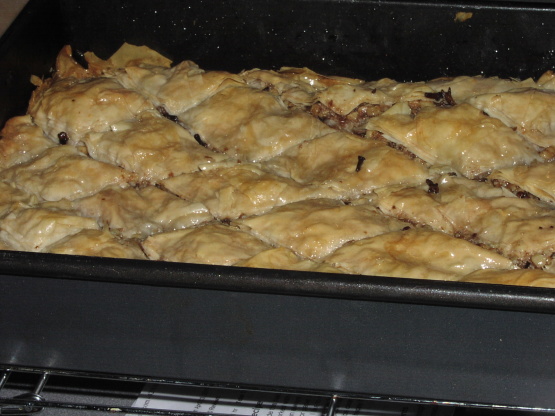 Directions
Start melting butter in a saucepan over low heat. Remove from heat as soon as it's melted. Note: If you run out of butter as you go, just melt a bit more!
Grind nuts in food processor until they are a bit smaller than pea-sized.
Combine nuts, sugar, and cinnamon. Mix well.
Brush baking pan (13x9) with melted butter. Place 5 or 6 phyllo layers in bottom of pan, piece by piece, and brush with melted butter between each layer- do NOT skip this step- it makes all the difference!
Spread about half of the nut mixture over phyllo.
Continue layering Phyllo over nut mixture, brushing butter between each layer, for 5 or 6 layers.
Add the remaining nut mixture on your Phyllo layer.
Layer remaining Filo on top, brushing with butter between each layer.
Once you've used up all your Phyllo, brush the top and sides with butter (if there are any ends hanging over). Roll the sides down slowly until they are tucked snugly in place.
Using the tip of a knife, slice baklava into triangles, squares or diamonds.
Stick one whole clove in the middle of each diamond. Not only is this pretty, but it also helps to hold the baklava together during the baking process and once you add the syrup.
Before the baklava goes into the oven, wet your hands with cold water and sprinkle lightly on top of the baklava. Do this once or twice during baking. This helps to keep the top from getting too puffy.
Bake in a 350 degree oven for 30 minutes, then reduce heat to 300 degrees for about 30 minutes or until top becomes golden brown. Remove from oven.
20 minutes before the baklava comes out of the oven, start boiling the syrup.
Syrup Directions:.
Mix all ingredients in a saucepan and boil for 10 minutes. I'd suggest staying nearby- it can boil up and out quickly, and I can't tell you how many times I've had to clean hot sugar off my stove or floor when it's overflowed!
When it reaches a boil, be sure to put a lid on the pan for a minute or two to allow steam to dissolve any sugar crystals. Also, be careful not to stir it after it begins to boil or else the whole syrup might be granular.
Gather your friends and family around as you pour hot syrup over hot baklava (it's quite dramatic!). Be careful when pouring the hot syrup- it may be too much- stop pouring once the syrup level reaches the top of the baklava. If you add all the syrup, it could turn into a sticky mess.
Let set overnight, so that the syrup is fully absorbed by the baklava.
get the genius kitchen app.
Watch on your iPhone, iPad, Apple TV, Android, Roku, or Fire TV.
Learn More