"Homemade peach or pear jam. Recipe taken from the Ball Blue Book of Preserving. Yields about 8 half-pints (I got slightly more)."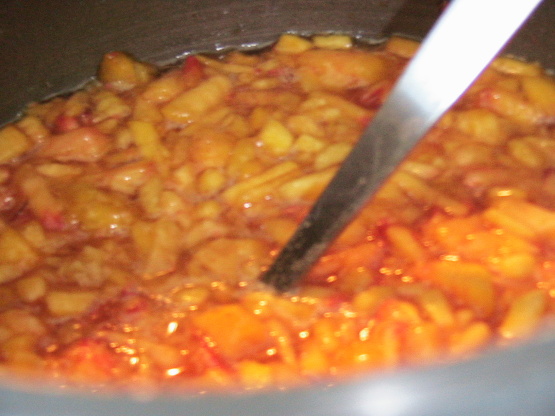 Ball Blue Book Peach or Pear Jam
3 recipe photos
1

quart peaches (peeled, pitted or cored, and finely chopped, 4 cups equals 1 quart or about 5 pounds peaches or pear) or 1 quart pear (peeled, pitted or cored, and finely chopped, 4 cups equals 1 quart or about 5 pounds peaches or pear)
7 1⁄2 cups sugar
1⁄4 cup lemon juice

1

(3 ounce) envelope liquid pectin
Directions
Combine fruit, sugar and lemon juice in a large saucepan. Bring slowly to a boil, stirring until sugar dissolves.
Stir in liquid pectin. Return to a rolling boil. Boil hard 1 minute, stirring constantly.
Remove from heat. Skim foam if necessary.
Ladle hot jam into hot jars, leaving 1/4-inch headspace. Adjust two-piece caps.
Process 10 minutes in a boiling-water canner. (Note: Add appropriate additional processing time for high altitudes).
Recipe variation:.
Add 1 teaspoon whole cloves, 1/2 teaspoon whole allspice and 1 cinnamon stick tied in a spice bag to jam during cooking. Remove spice bag before filling jars.