"From Jody Vassallo little ideas diabetes. I don't have a particularly sweet tooth for sugary foods but I do like savoury and or fruit breads which are not overly ladened with fruit through."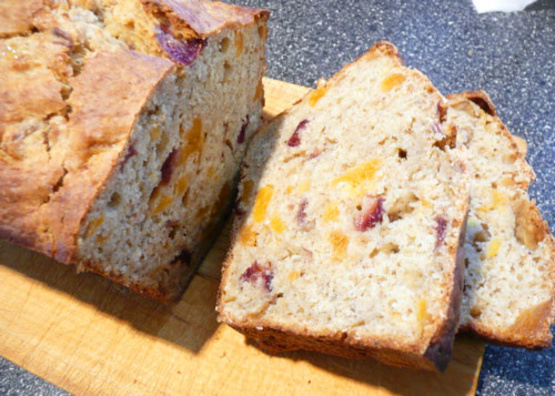 Banana and Apricot Bread
1 recipe photo
236.59

ml dried apricot (135g/4 1/2oz roughly chopped)

118.29

ml sultana (85g/2 3/4oz)

236.59

ml unsweetened apple juice (low GI 250ml/8fl oz)

532.32

ml self-raising flour (stone ground 360g/12 oz)

4.92

ml baking powder

4.92

ml mixed spice

118.29

ml oat bran (unprocessed 70g/2 1/4oz)

44.37

ml brown sugar (or low-calorie sweetner suitable for baking)

2

eggs (lightly beaten)

236.59

ml buttermilk (250ml/8fl oz)

29.58

ml olive oil

236.59

ml mashed banana (just ripe 240g/7 2/3oz)
Directions
Preheat oven to 180C (350F/Gas 4).
Lightly grease and line a 10cm x 20cm (4inch x 8inch) loaf tin.
Put the apricots, sultanas and apple juice into a pan and bgring to the boil and cook for 10 minutes or until the fruit has absorbed all the liquid.
Sift the flour, baking powder and mixed spice into a bowl and stir in the oat bran and sugar or sweetener.
Whisk together the eggs, buttermilk and oil and stir into the dry ingredients and then fold in the mashed banana and fruit mixture.
Spoon the mixture into the prepared tin and bake for 50 to 60 minutes or until a skewer comes out clean when inserted into the centre.
Set aside for 5 minutes before turning out on a wire rack to cool completely.
Serve the bread plain or with a low fat spread.