"I made these for the first time after my baby was born 9 months ago and let me tell you...I ate about the entire batch! They are so darn yummy...and moist! Everyone that has tasted them absolutely love them. I have played with the ingredients a bit, toasting the coconut, using granola with raisins and almonds in it, every time they turn out perfect. Whenever I make these, I always think that the batter is a good base for any type of muffin (without the bananas, etc) but I haven't tried it yet. I originally found this recipe from the Barefoot Contessa."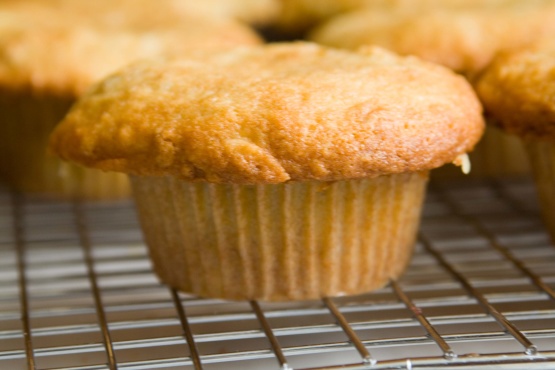 Banana Crunch Muffins
2 recipe photos
Directions
Preheat the oven to 350 degrees F.
Line 24 large muffin cups with paper liners. Lightly grease the tops of your pans to make it easier to remove the muffins if they cook up over the top of pan.
Sift the flour, sugar, baking powder, baking soda, and salt into the bowl of an electric mixer fitted with a paddle attachment. Add the melted butter and blend.
Combine the eggs, milk, vanilla, and mashed bananas, and add them to the flour-and-butter mixture. Scrape the bowl and blend well. Don't over mix.
Fold the diced bananas, walnuts, granola, and coconut into the batter. Spoon the batter into the paper liners, filling each paper liner 3/4 full.
Top each muffin with dried banana chips, granola, or coconut, if desired.
Bake for 20 to 25 minutes, or until the tops are brown and a toothpick comes out clean. Cool slightly, remove from the pan, and serve.