"This is a modification of the pancake recipe on the back of the Saco powdered buttermilk container. You can find Saco powdered buttermilk in the baking section of the grocery store; it's GREAT for baking and unlike fresh buttermilk you can measure just the amount you need and store the tub in the fridge indefinitely. I tried the Saco pancake recipe the first time about ten years ago and have never bought pancake mix again... this is just so superior to that Bisquick junk. This weekend I wondered how it would be to do half white / half wheat flour... I would not have guessed this recipe could be improved but WOW these are good!"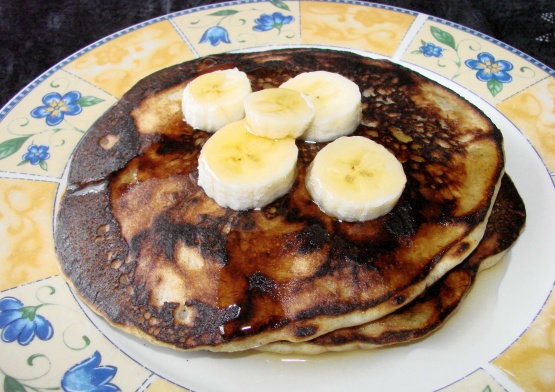 Banana Half-Wheat Pancakes
1 recipe photo
Directions
Preheat your griddle. I get perfect results with my electric griddle set between 350 and 400 degrees.
Mix all dry ingredients in a medium bowl.
Smash the banana roughly with a fork on a small plate then add to the dry ingredients.
Add remaining wet ingredients and stir until just blended -- don't over-stir!
I use a 1/4 measuring cup to pour the batter onto my griddle.
Cook until bubbles forming on the top surface stay open when they pop, then flip and cook until bottom is lightly browned.
These are perfect with just a little syrup, but they're INSANE garnished with whipped cream and sliced strawberries.