"These gluten-free crepes get their special sweetness from bananas and can have the same texture as normal crepes, depending on the equipment you use. They are very easy to make and cheap too!"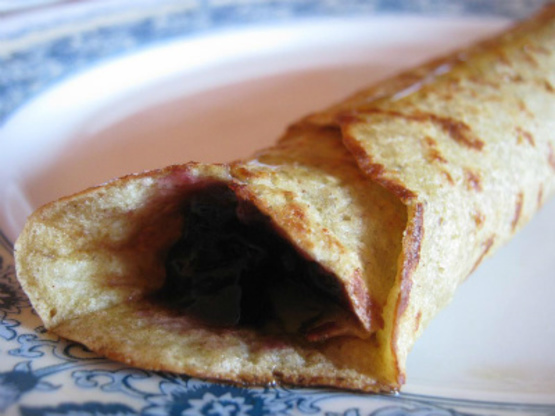 Banana Oat Crepes (Gluten-Free)
3 recipe photos
Directions
Blend all ingredients in a blender until smooth and let stand in fridge for 15 minutes.
Heat a greased skillet on medium heat and pour 1/3 cup batches on the pan, swirling it very quickly to distribute the batter.
Cook until the bottom starts to turn golden and it is easily flippable, then flip and cook other side until done to your preference. Garnish with maple syrup, chocolate sauce, berries, jam or mashed bananas as filling and topping.
****You can make your own with a blender, using about 1 1/2 cups quick oats to make 1 cup oat flour. If you`re going to leave your crepe mixture in the fridge for quite a while it will thicken so just add water to the desired consistency. If you`re going to blend it, do so just for a second and let the mixture rest a couple of minutes before cooking them or else you may end up with airey crepes.