"This will make two loaf breads, the coffee and orange rind really kicks up the flavor! The bananas will need to be mashed in with the coffee before adding to the batter."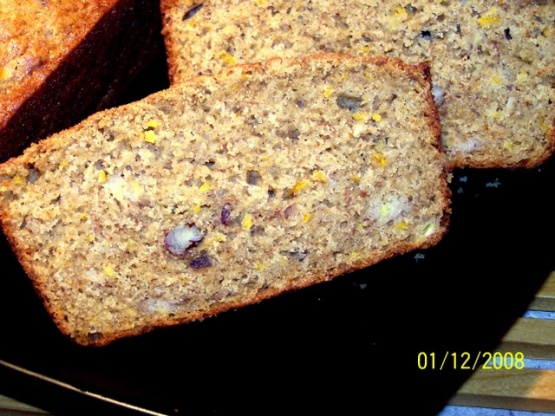 Banana-Raisin Nut Coffee Loaf
4 recipe photos
Directions
Set oven to 350 degrees.
Grease two 8 x 4-inch loaf pans.
In a bowl beat melted butter with brown sugar for 2 minutes (or until no sugar granules remain).
Add in eggs, vanilla, almond extract and the rind from 1 orange.
Mash 2 cups bananas in 1 cup brewed coffee; add to the creamed mixture; mix to combine.
In a small bowl mix together flour with, baking soda, baking powder, nutmeg and cinnamon; add to the creamed mixture and stir with wooden spoon until just combined (do not overmix!).
Add in raisins and nuts; mix lightly until combined.
Divide the mixture between the two pans.
Bake for about 40-50 minutes or until loaves test done.