Want more from Genius Kitchen?
Watch on your Apple TV, Roku, or Fire TV and your iOS, Fire, or Android device.
Learn More
"I came up with this for a Mardi Gras themed birthday party. It's a super moist sour cream banana cake adapted from an Elisa Strauss recipe, with pastry cream filling, rum buttercream, and caramel sauce. You can certainly use a store bought caramel sauce, but this is incredibly better and easy to make if you're patient. I know it's an effort to make this cake, but it is a real showstopper. If you really like to bake, then it's worth every minute! Make ahead: Cake - 2 days refrigerated, 1 month frozen; Pastry Cream - 1 day refrigerated; Buttercream - 1 week refrigerated, 1 month frozen; Caramel - 1 week refrigerated"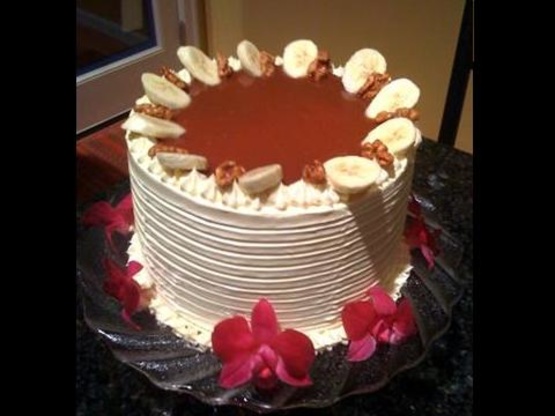 Bananas Foster Cake
1 recipe photo
Directions
Cake: Preheat oven to 350°F Butter/flour three 9-inch cake pans. Sift flour, soda, cinnamon and salt into a large bowl. Peel bananas and mash with a fork, set aside. Beat butter and sugar with a mixer until light and fluffy. Add eggs one at a time, scraping bowl thoroughly between each addition. Beat in vanilla and lemon zest. Add in 1/3 of flour just until combined. Add 1/2 of sour cream just until combined. Repeat with 1/2 of remaining flour, then remaining sour cream, ending with flour. Beat in bananas. Divide batter evenly between pans and bake for 1 hour or until toothpick comes out clean. Cool cakes on a rack for 20 minutes before removing from pans.
Pastry Cream: Heat half-and-half, 3 tablespoons sugar, and salt in small heavy-bottomed saucepan over medium heat until simmering, stirring occasionally to dissolve sugar.
Meanwhile, whisk egg yolks in medium bowl until thoroughly combined. Whisk in remaining 1 tablespoon sugar and whisk until sugar has begun to dissolve and mixture is creamy, about 15 seconds. Whisk in cornstarch until combined and mixture is pale yellow and thick, about 30 seconds.
When half-and-half mixture reaches full simmer, gradually whisk simmering half-and-half into yolk mixture to temper. Return mixture to saucepan, scraping bowl with rubber spatula; return to simmer over medium heat, whisking constantly, until 3 or 4 bubbles burst on surface and mixture is thickened and glossy, about 30 seconds. Off heat, whisk in butter and vanilla. Transfer mixture to medium bowl, press plastic wrap directly on surface, and refrigerate until cold and set, at least 3 hours or up to 48 hours.
Buttercream: Whisk egg whites and sugar together thoroughly in a heat proof bowl. Set bowl over a pot of boiling water. Whisking constantly, heat mixture until sugar has dissolved and mixture is just too hot to dip your finger inches (Careful not to scramble the eggs!) Pour into bowl of a standing mixer and beat on high speed to make a stiff meringue (this is a swiss meringue). Continue beating on slow speed until cooled to room temp, about 10 minutes. Gradually beat in butter a few cubes at a time until all is incorporated. Beat in vanilla and rum. You can refrigerate this for up to 10 days or freeze up to a month. Bring to room temp and whisk before using.
Caramel Sauce: In a small to medium saucepan, combine the sugar and water and cook over medium heat stirring until sugar dissolves. Stop stirring, increase heat to high, cover and bring to a full boil. (The steam will wash the sides of the pan to remove any sugar crystals.) After a minute or so, remove the lid and cook without stirring until it begins to turn a golden brown around the edges (it should take 5 to 10 minutes depending on the size of your pan). In the meantime, heat the cream until it begins to simmer. Set aside for a moment. As soon as you start to see the sugar syrup turn golden, carefully swirl the pan to redistribute the caramel. (Do not stir! The sugar will crystallize.) A few moments longer is all it will take -- just until it is an even golden color. Now, remove from the heat and slowly pour in the cream while stirring with a long-handled wooden spoon. It will bubble up furiously, so be careful not to let it overflow. Stop for a second and let it die down if necessary. Keep stirring until the mixture is smooth. Stir in salt and let cool to room temperature.
Assembly: Spread cold pastry cream between cake layers. Ice sides and top with buttercream. Pipe a decorative border around the top edge of the cake to create a dam for the caramel. If the caramel has cooled too much to pour, warm it just until it's more fluid, but not warm enough to melt the buttercream. Pour an even layer of caramel onto the top of the cake. Save the rest for serving along side or over ice cream, or eat it with a spoon -- it's amazing!
Decorate the cake however you like -- I use sliced bananas dipped in lemon juice and candied walnuts.
get the genius kitchen app.
Watch on your iPhone, iPad, Apple TV, Android, Roku, or Fire TV.
Learn More