"From borntoenterain.com, i posted it here for safe keeping."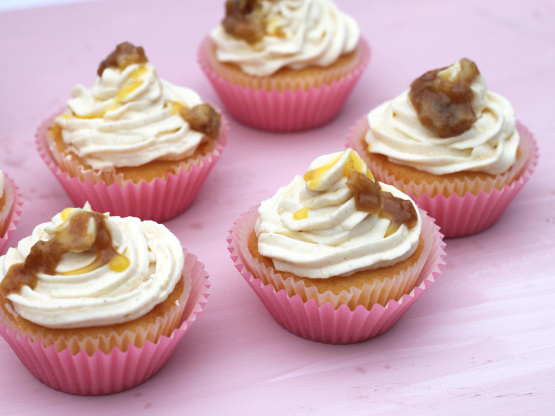 Bananas Foster Cupcakes
4 recipe photos
Directions
For the Bananas:.
In a saute pan over medium heat, combine the butter, brown sugar, and cinnamon.
Cook until butter melts and sugar is dissolved (4 to 5 minutes).
Add the banana slices and cook until tender, turning once for 1 to 2 minutes per side.
Stir together rum and vanilla.
Turn off the burner and add the rum mixture to the pan.
Using a long match, light the alcohol by placing the flame just in the outer edge of the pan.
Stand as far back as possible. The flame should extingish in a few seconds.
Gently shake the pan from side to side to coat the bananas with the sauce.
Spoon the bananas into a bowl and set aside.
For the Cupcakes:.
Preheat oven to 350 degrees.
In a large bowl, cream butter and sugar with electric mixer until light and fluffy.
In a medium bowl, combine the flour, baking soda, and salt.
Add eggs, vanilla, rum and banana mixture. Mix well.
Add flour mixture alternately with sour cream; blend thoroughly but do not overmix.
Pour into prepared cupcake pans.
Bake 20 - 25 minutes or until toothpick inserted comes out clean.
Cool for 1- minutes in pan on rack. Remove and cool completely before frosting.
For the frosting:.
Beat together cream cheese, butter, cinnamon and vanilla on medium speed until light and fluffy.
Add about half the powdered sugar and beat until mixed well. Then gradually add the remaining powdered sugar until you reach a spreading consistency.