"I always fully bake chicken pieces or halved chickens destined for grilling over coals, to save us all that problem of having a scorched or burnt chicken which is still not cooked through! There are BBQ experts who can actually grill chickens, get them cooked through, and not burn them, but my husband isn't one of them!! (This problem does not occur when the Weber kettle braai is used!) This sauce is brushed on the chicken halves or pieces every now and then, and when turned over. It can also be a marinade for chicken done in the oven. Don't be put off by the list of ingredients: it's mostly spices, and most of them you'll have at hand. Any sauce you don't need can be kept in a bottle in the fridge and will last almost forever."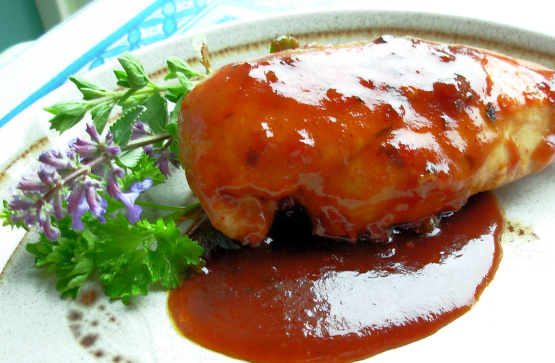 Barbecue Sauce for Chicken on the Grill
2 recipe photos
Directions
Starting from the top (or whichever way you like!) put all the ingredients in a blender or processor.
Blend slowly, then at high speed, until you have a thick, smooth, orangey sauce.
Taste for seasoning: I do not know what your chutney tastes like, or whether you might want more vinegar in the sauce. It's a personal thing.
Keeps ages in a bottle in the fridge. Just shake again before use.
This sauce is what we use when grilling over wood coals and/or charcoal.
As the chicken grills, brush on the sauce several times, until it almost forms a kind of "crust". Be careful not to burn the sauce. That is why it is a good idea to bake or boil the chicken before grilling.
(Beware of "boiling out" the taste. Baking is better. If you do boil the chicken, do so in chicken broth to conserve the flavour. The cooking liquid can then be saved and used for soup).