"Looking for fish recipes for the barbie for when we go on holiday next year. This one is from Super Food Ideas. The recipe just specified whole baby snapper, not necessary just red snapper. NOTE - you could use a 1.5kl whole snapper and allow for 20 to 30 minutes to cook through, turning half way through the cooking time."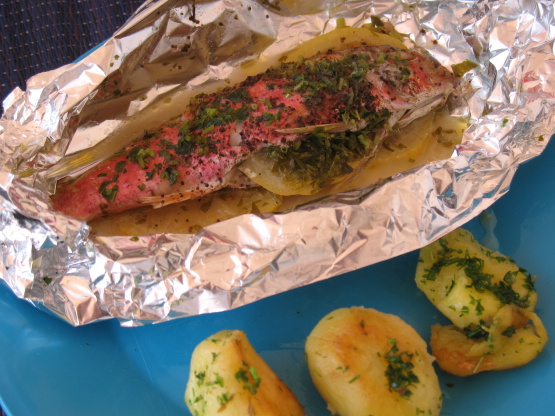 Barbecued Snapper With Butter and Lemon
3 recipe photos
4

(400 g) red snapper (baby whole, cleaned)

2

lemons (1 thinly sliced 1 cut into wedges to serve)

8

sprigs parsley (fresh flat leave)

100

g butter

salt and pepper
Directions
Preheat a barbecue on medium high heat with hood closed.
Rinse fish inside and out under cold running water and pat dry with paper towel.
Make 3 shallow cuts, in the thickest part of each side of the fish.
Divide lemon and parsley between each fish's cavity.
Divide 1/8th of the butter in the cavities and the remainder divide and dot on the top of each fish and season with salt and pepper.
Place 1 piece baking paper in centre of 1 piece of foil (needs to be more that twice the length of the fish), place fish on top.
Bring 2 sides of foil up towards the centre and fold foil edges to create a seal.
Roll up remaining ends of foil to enclose the fish.
Repeat wrapping process with other 3 fish.
Barbecue fish, with hood closed for 8 to 10 minutes or until cooked through.
Suggested you serve with steamed baby potatoes, parsley and lemon wedges.