"This is the Neely's spin on a great Southern tradition. The sweet, tangy flavor of the barbecue sauce blends surprisingly well with rich, creamy egg yolks. Topped with thinly sliced scallions, these eggs are perfect for a picnic, a party, brunch or dinner, not to mention game nights!"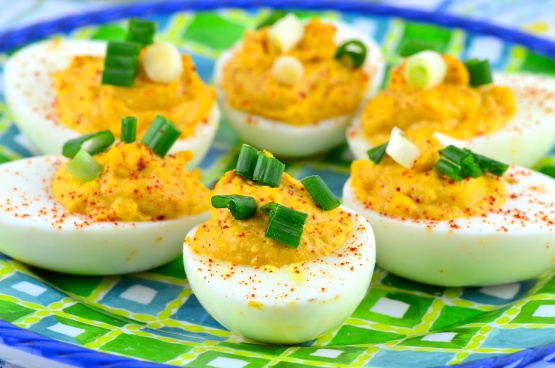 Barbeque Deviled Eggs
8 recipe photos
Directions
Bring a medium pot of water to a boil, then turn down to a simmer.
Using a slotted spoon, gently lower eggs into water and simmer for 9 minutes. Reduce heat if it simmers too much, you don't want the eggs to crack.
Drain water from the saucepan and run cold water over the eggs until they are cool enough to handle.
Peel the eggs and cut in half.
Remove yolks and place in a bowl.
Add the mayonnaise, Neely's barbeque sauce, mustard, salt, pepper, and hot sauce to taste; whisk until smooth.
Use a spoon to scoop the yolk mixture into the whites. (If you like, you can use a pastry bag to pipe the yolk mixture into whites).
Garnish the tops with thinly sliced scallions and a dash of paprika.