"This recipe is FANTASTIC! I am not a bread maker, and this, in true reality, has been the only bread I have ever made without a feeling of helplessness. I am usually at a loss, and feel completely uneasy with making breads, but this recipe has helped tame that fear. I make it easier on myself by using a kitchen mixer for everything, so I dont have to mix it or knead it. I also love the fact that this recipe calls for NO EGGS, and NO REFINED SUGAR. It uses honey to be a natural sweetener, and let me tell you it is delicious!!! I got this recipe from a bread making class that I went to with some church friends. You do not have to use the gluten, enhancer, or lecithin which is what makes it basic, but I want to tell you that I get a much better product by using the first two. I, personally, have never used lecithin."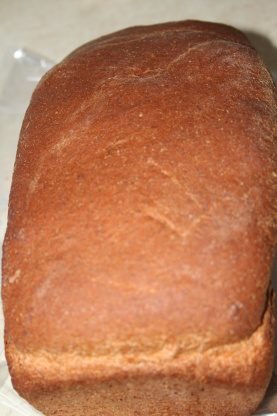 Basic 100% Whole Wheat Bread
3 recipe photos
6

cups warm water (110-120 degrees)
2⁄3 cup honey
2⁄3

cup oil (I have used both olive oil and vegetable oil, and both have worked wonderfully)

8

cups whole wheat flour (I used freshly ground, additional flour will be used later)

3

tablespoons vital wheat gluten (optional)

2

tablespoons bread enhancer (optional)

3

tablespoons instant yeast (I use SAF)

2

tablespoons salt (I use Real)

8

cups whole wheat flour

2

tablespoons liquid lecithin (optional)
Directions
In mixing bowl (you can do all of this in an electric mixer with a dough hook), and in this order, combine water, oil, honey, lecithin (opt), the initial 8 cups flour (covering all the wet ingredients), vital wheat gluten (opt), dough enhancer (opt), yeast, and salt.
Mix until fully combined, and then let it sit for 10 minutes.
After 10 minutes, it should have risen a little, so mix the mixture again and then add in the additional 6 cups flour (more ro less) and mix until the dough is not sticky (tacky) and all the flour is mixed in well.
Now, knead the dough for 10 minutes, and the dough, at this point, should look smooth.
Divide the dough into 5-6 equal loaves.
Put in well greased pans and then let dough rise until fully risen. The way I can tell is by lightly pushing in on the dough, and if the dough does NOT come back out, or comes out very slowly, then it is ready.
Put bread into a COLD oven (not preheated), and turn on the oven to 350 degrees and bake for 35 minutes.
When it comes out, you can put butter on the top of it. It is a GREAT bread!
***NOTE*** You can use this bread for pizza dough, cinnamon rolls, or dinner rolls as well. For the cinnamon rolls and pizza dough, you will place them in the oven which has been preheated. The dinner rolls can follow the other directions. The rolls, and cinnamon rolls take the full 35 minutes to cook, and the pizza cooks on 500 degrees for 10-15 minutes. The cinnamon rolls use up the amount of dough that would be used for 2 loaves of bread, and for the rolls it depends on the size that you make.
*FOR PIZZA -- use amount of dough used for one loaf and roll out into a circle.
Place on pizza sheet with corn meal on it.
Place pizza sauce and toppings on pizza crust, WITHOUT cheese.
Place into 500 degree oven for 7-9 minutes.
Take out and spread cheese on pizza, and put it back into the oven for 3-6 minutes.
Take out of oven and let cool before cutting.
get the genius kitchen app.
Watch on your iPhone, iPad, Apple TV, Roku, or Fire TV.
Learn More