"This is a recipe from an old 1970's cookbook that myself and my oldest Son still cook from. They are really great and very easy. I included the one hour resting time in the preparation time. Enjoy!"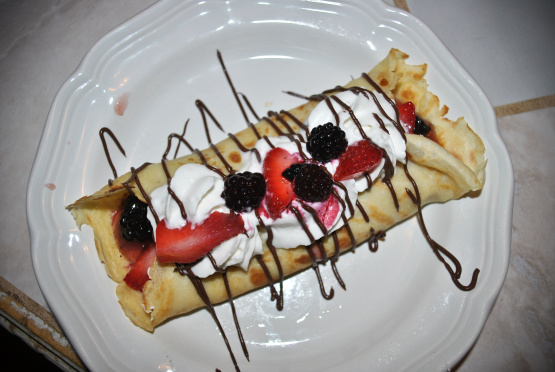 Basic Crepe Batter
6 recipe photos
Directions
Beat together the eggs and milk with a whisk or in an electric blender. (We always use the blender and it's easy to pour from).
Sift the flour with the salt and add to the egg and milk mixture.
Add the melted butter or vegetable oil and blend thoroughly.
If beating by hand, strain the mixture through a sieve to remove any lumps.
Allow mixture to stand for at least an hour before using (my kids can't do that!). If the batter is too thick, add a little milk and mix.
Pour one or two tablespoons of the batter in the centre of a hot, nonstick frying pan. Tilt to spread the batter to the edges of the pan. Cook until the top is dry. Turn over and cook the other side for about 15 seconds. Don't worry if the first couple aren't perfect - those are the trial ones for me!
You can roll these with fruit inside and top with whipped cream. My kids like using peanut butter and bananas and I like blueberries or spinach and mushrooms. Be adventuresome!