"This basic recipe is from Arrowhead Mills. The taste by itself is wonderful and works well when paired with salty or sweet foods/spreads. I've started to add different combinations or herbs, cheeses, and ground chia seeds into the mix as well. It's a great recipe to experiment with. I've found that the nutrient-rich bread itself is rather filling, so the loaf lasts somewhat longer than expected."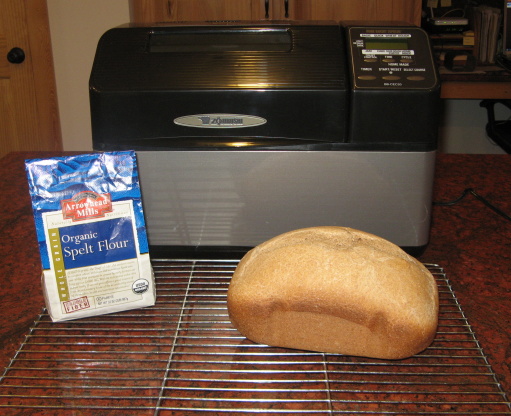 Basic Spelt Bread for Oven or Bread Machine
1 recipe photo
Directions
OVEN INSTRUCTIONS: Dissolve yeast in honey with vegetable oil and water.
Add salt and 1 1/2 cups of spelt flour. Beat well for 3-4 minutes.
Cover with damp cloth and let rest in a warm place for approximately 30 minutes or until double in size.
Add remaining flour, turning onto floured board and knead until smooth, adding flour if necessary.
OPTIONAL: Add desired additional ingredients to taste. This is where I tend to add small amounts of herbs (such as basil and/or rosemary), chia seeds (usually ground), and/or grated parmesan/asiago cheese.
Place in oiled loaf pan and cover with damp cloth. Let rise in warm place until double in size (approximately 30 minutes).
Bake at 350 degrees for 30-40 minutes or until golden brown.
BREAD MACHINE INSTRUCTIONS: Add ingredients to machine according to manufacturer's instructions.
Bake on shortest cycle (NOT quick bread cycle).
If loaf falls and craters during baking cylce, decrease water slightly next time.