"I wanted to make some basic chocolate chip cookies for my kids (vegan & spelt) and found this recipe on http://www.vegfamily.com/vegan-recipes/desserts/spelt-carob-cookies.htm. It goes together really quickly and easily and only has 8 ingredients. I used a light spelt flour, which I think is most suitable for this recipe. They're a little cake-like, as with most vegan cookies...I prefer them this way. Note that the recipe only makes 12 cookies - you could make 24 small ones, but I like the larger size. Use carob or vegan chocolate chips, and I'm sure you could add some nuts and seeds if you choose. Hope you enjoy!"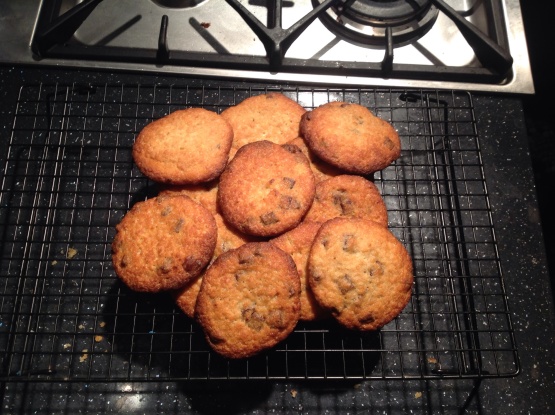 Basic Vegan Spelt Cookies - Chocolate/Carob Chip
2 recipe photos
Directions
Preheat your oven to 350 degrees and lightly oil a baking sheet.
In a large mixing bowl or your stand mixer, beat the margarine with the sugar, vanilla and banana (or egg replacer).
Blend in the flour about 1/4 cup at a time along with the baking powder and salt. Don't overmix, but make sure everything is nicely blended with no dry spots.
Lastly, fold in your chocolate or carob chips.
Drop by heaping teaspoon fulls onto your cookies sheet, making 12 large or 24 small cookies. Bake 10-14 minutes until done, which will depend on the size of your cookies.