"From a friend who recently traveled to Switzerland and returned with this recipe. She says this recipe is more authentic (i.e., Bavarian) and less "mall food court" than other recipes (all are good, but it's a matter of preference). I don't know whether to believe her - I haven't been to Switzerland to sample their goods, and I won't make this recipe until after I have posted it here. I like surprises."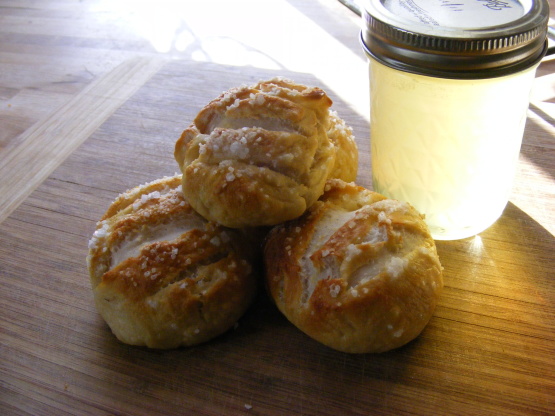 Bavarian Pretzel Rolls
1 recipe photo
Directions
In a mixer bowl, add yeast and 1 1/2 cups warm water and let stand for about 5 minutes until it foams and smells yeasty.
Add sweetener, flour, salt, and melted butter. Mix with the dough hook until it forms a dough ball, about a couple minutes.
Cover and let rise about 1 hour. Punch down and turn ball on a lightly floured counter.
Roll dough into a "rope" and cut into the approximate sizes you want your rolls - about 12-16 rolls is reasonable. Shape into rolls. You can try pulling the dough balls inside out and pinching the edges together on the bottom to form a nice rounded top and a flatish bottom. Don't make it more difficult than it has to be; they taste good even if they don't look perfect!
Put the rolls on a parchment lined cookie sheet or two (they won't rise much more). Cover and let rise another 30 minutes.
Pre-heat oven to 425 °F.
Heat 2 quarts of water to boiling.
When water is boiling and rolls have risen, slowly pour baking soda into the water. Be careful! If you pour too quickly, the pot may boil over. Baking soda is a fine powder, providing plenty of nucleation points for steam bubbles to form, and it releases some gas when it contacts the water, to boot.
Use a slotted spoon or spatula to east the rolls into the baking soda bath and poach for about 30 seconds on each side (the more time they poach the crustier, browner, and more authentic they'll be -- the less time in the bath the more like mall pretzels they'll be -- both are good, it's up to you).
Use slotted spoon to remove from bath and place back on cookie sheets.
While still damp, sprinkle with pretzel or kosher salt and score top with a knife in a plus (+) shape to allow the rolls to expand attractively while baking.
Bake at 425 °F for about 15 minutes or until caramel brown. (More or less depending on your oven and personal preference). Rotate cookie sheets top to bottom and rear to front midway during baking, if you desire.
Serving suggestions:.
For breakfast: serve warm with Irish butter and strawberry preserves.
For snack: smear with cheddar cheese spread
For lunch/dinner: cut in half and top with thin sliced roast beef and smoked Gouda cheese; broil until cheese is brown and bubbly.
Or just eat them plain!
get the genius kitchen app.
Watch on your iPhone, iPad, Apple TV, Roku, or Fire TV.
Learn More