"This is older than the Saints I think...or at least every Great Grandma I knew made this one with their eyes closed. We just watched in amazement. It looked like parchment paper on the table and they worked wonders with it. It was delectible, flakey every time, and anything that oozed was sweet and crunchy and great to our palate. You can master it, but it is a challenge if you like that sort of thing....I know I do."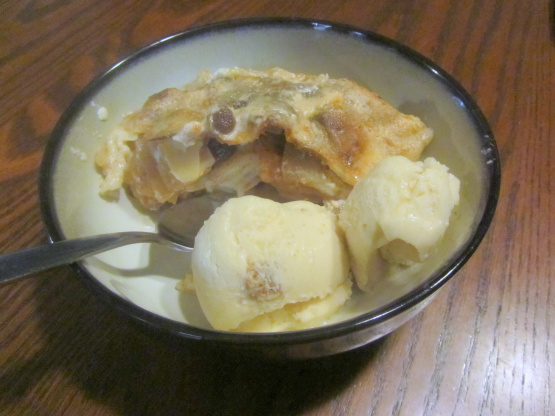 Bavarian "Pulled" Apple Strudel (Gezogene Strudel)
1 recipe photo
Directions
Work the flour, eggs, oil, water, and salt into a dough.
Divide into three parts.
Form a ball of each piece, brush each piece of dough with oil and let it rest for 45 min.
Place a old clean tablecloth on the table, roll out a ball a thin as you can.
Here comes the tricky part.
Make sure you are wearing no rings-- go under the dough like you are making your hands into claws with your fingers pointing down at the table and the soft part of your knuckles is what is going to pull the dough toward you.
You will do this all around in a circle until the dough is paper thin and you can see through it.
Brush generously with melted butter during this process.
Trim off the heavy edges.
Sprinkle on the apples, some sugar, cinnamon to taste, nuts if you like and drizzle a little melted butter over all.
Now take the tablecloth and fold about 5" over toward the center on each side forming a frame around the dough.
From the long side, Lift one side of the tablecloth and roll up completely.
Fold it as long as your pan is.
Seal edges.
Gently put rolled strudel into the pan Bake at 350* for about 45-55 min.
Until golden brown.
There are other fillings like cheese, cabbage, sweet or sour cherries, raisins/nuts can be added to the apples, even meats have been done with this dough.
I prefer the apple and cheese myself.
get the genius kitchen app.
Watch on your iPhone, iPad, Apple TV, Roku, or Fire TV.
Learn More