"This is Southwest comfort food from Arizona. I didn't know until I moved here how much better dried beans are than canned and how fast they are to soak following tip provided in the directions. I was also introduced to the wonderful flavors of fresh cilantro and Hatch chilies. Genuine Hatch chilies are from Hatch, New Mexico, and can be found fresh here only once a year, roasting in grocery store parking lots. Ohhh they smell so good! But you can get them canned in a lot of grocery stores and they still have that very unique, special flavor. You can substitute jalapeños if you can't find Hatch chilies. I put canned chicken broth in the recipe ingredients but usually use a cup of my own very rich homemade stock and add an extra cup of water. I err on the side of "not-too-hot" because I'm a wimp, but serve extra chilies on the side. The soup freezes very well, but eat the potatoes before freezing. Good with warm, buttered corn tortillas or corn bread. This is my own made-up recipe. Hope you enjoy it as much as we and our guests do!"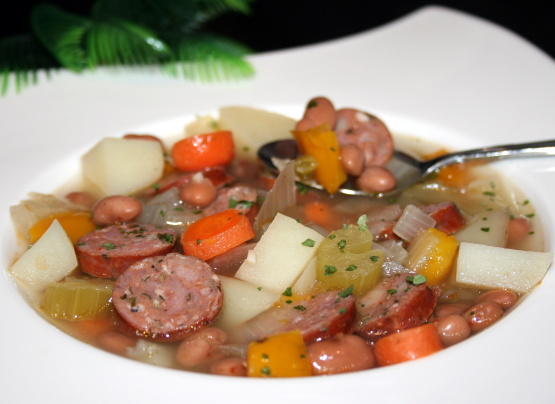 Bean Soup With Sausage and More - Southwest Flavors - Nutritious
1 recipe photo
354.88

ml dried pinto beans

29.58

ml canola oil

226.79

g Italian sausage (hot or sweet, about 2 links)

3

slice bacon (or skip the bacon and use an extra sausage link)

1

medium onion, chopped

236.59

ml chicken stock (homemade, strong, preferred, but you can substitute one 15-oz. can chicken broth)

1537.83

ml water

4.92

ml salt

2.46

ml black pepper

2

garlic cloves, minced
chili pepper (3 teaspoons hot, canned Hatch chilies, or 1 teaspoon fresh jalapeno pepper, finely diced)

118.29

ml bell pepper, diced (red or green)

2

medium carrots, 1/3-inch slices

3-4

celery ribs, chopped

149.68

g red potatoes, chopped into 3/4-inch chunks (about 3 red "new" potatoes)

59.16

ml fresh cilantro

Garnish (enough for number of servings that day)

grated cheese (Monterey jack, cheddar or Mexican)
Directions
Quick soak method for beans: Check beans for debris and rinse. Place beans in large pot and add enough water to cover by 2 inches. Bring to boil. Boil for 2 minutes; remove from heat and allow to rest, covered, for 1 hour.
While the beans are soaking, cook the sausage and bacon in oil. Remove from pan and saute onion in drippings until medium brown. Drain well.
Drain beans, rinse and put into sausage pot. Add stock and water, salt, pepper, garlic.
Bring to boil and reduce to simmer. Cook for total of 1-3/4 to 2 hours, partially covered.
Take a break. This is a very forgiving recipe!
For the chilies, crank them up or down to your taste. I prefer to make the soup very slightly spicy hot and serve more chilies on the side for guests to garnish to taste.
Add drained onions and remaining veggie ingredients as you peel, chop and dice. Cut sausage into 1/2" slices and coarsely crumble bacon. Add sometime along the way. Add the potatoes and cilantro last.
Taste, especially for salt.
If you want the broth thinner, add a little stock. Or if you want to thicken it, mash some of the beans.
Serve with cheese, hot chilies and cilantro as garnishes. You might want to bring out the saltshaker for those who like a lot of salt. Good with cornbread or warm buttered tortillas.