"Posted for ZWT6 "Mention to the average American that you love Beans on Toast, and you are stared at in disbelief. I guess the thought of actually eating beans on a piece of toast is a little hard to swallow, both literally, and figuratively, and yet it is an extremely tasty and nutritious meal. So, just in case you are still wondering what we are talking about, here's the recipe, which would provide a meal for two. NOTE: While the toast is toasting, don't forget to make a large pot of tea. It is an absolute fact that you cannot eat Beans on Toast without lots of tea!""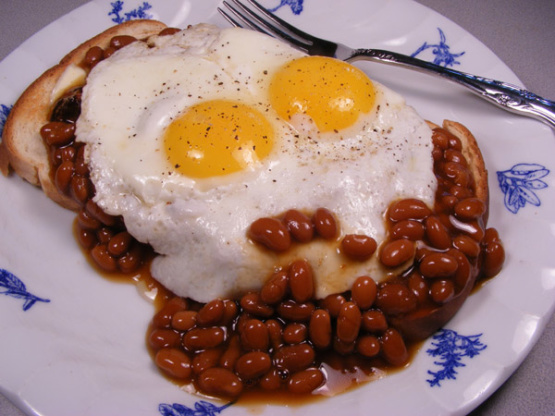 Beans on Toast
3 recipe photos
396.89

g canof heinz baked beans in tomato sauce

4

large eggs

4

slice bread, for toasting

plenty butter (or equivalent if you prefer)
Directions
Empty the baked beans into a small saucepan.
Prepare a pan to either poach or fry the eggs (your choice, but poached is better).
Start toasting the bread. How many slices is, of course, up to you and your appetite at the time, but at least 2 slices each are needed for the beans, plus any additional slices for the jam later.
While the toast is toasting, don't forget to make a large pot of tea. It is an absolute fact that you cannot eat Beans on Toast without lots of tea.
Once the toast is on, gently warm the beans, and start to cook the eggs.
As the toast is done, place it on pre-warmed plates, and apply lots of butter to taste.
Divide the beans between the two plates, spreading them over the 2 slices of toast.
Place the cooked eggs on top of the beans, sprinkle a little pepper, (and if you prefer, maybe a dash of Lea & Perrins Worcestershire Sauce), and enjoy.