"This recipe takes some time to make but it needs very little attention. You can work on the main meal while this is cooking. Breaking into the cheesy crust on top is a unique way to present this soup to your guests."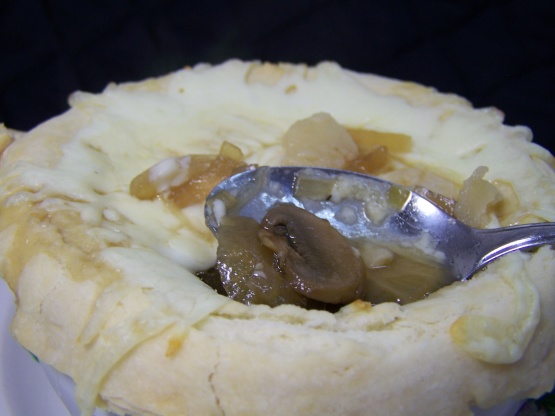 Beautiful Baked French Onion and Mushroom Soup
2 recipe photos
READY IN:

1hr 40mins

SERVES:

4

UNITS:

Metric
Directions
Cut onions in half lengthwise and thinly slice into half moon shapes.
Pour olive oil into a large pot and heat to one notch over low. Add onions and sprinkle them with salt. Cover and let onions sweat for 15 minutes. Give onions a quick stir, cover and let sweat for another 15 minutes.
While onions are cooking, thinly slice your mushrooms, mince your garlic and preheat oven to 375°F.
Get 4 ovenproof bowls and place face-down on the pie crust. Cut 4 large circles out of pie crust, about 1" bigger than the size of your bowl. They do NOT have to be perfect circles - they look more rustic if the edges are jagged.
When onions are done sweating, uncover, turn heat to medium and brown slightly while stirring frequently for about 10 minutes. Add mushrooms, garlic, sherry, balsamic vinegar, Worcestershire sauce, beef broth, bay leaf, and black pepper. Bring to a boil, turn down to simmer for ½ hour or more.
Remove bay leaf. Pour soup evenly into bowls and cover each bowl with a crust. The crust should not be touching the soup. Poke 1 small hole in the middle of each crust. Bake for 12 minutes. Crust should be just golden.
Remove, and sprinkle each bowl evenly with Swiss cheese. Put back in the oven for about 3 minutes, until cheese has just melted.
Serve immediately and let your guests cut into the crunchy crust with their spoons and the cheese will melt into the soup.