"Nothing beats fresh garlic bread right out of the oven, Dears. But sometimes we spend too much time gossiping at the beauty parlor and time gets away from us. Make these up ahead of time and have a handy cache of these ready for those days when your hair looks great, your nails are polished, and you must get straight to the phone to spread the juicy gossip you just heard."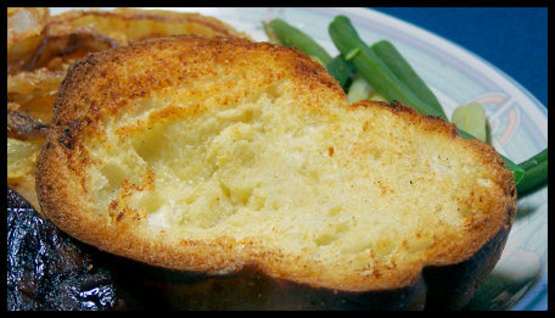 Beauty Parlor Garlic Bread
6 recipe photos
1

loaf crusty French bread

118.29

ml butter, room temperature (8 tbsp)
Directions
Buy a loaf of fresh french bread. You know- the kind that is piping hot everyday at your grocery baker at 4 O'clock every afternoon. Let cool and slice on the diagonal about 1 1/2 inches thick. Try to make clean, straight slices. You want at least one side to have as flat of a side as possible. You should have eight slices.
Spread each slice on each side generously with butter. About 1/2 tablespoon butter per side.
Sprinkle each side with garlic powder to your taste. Stack buttered slices together in stacks of two or four, depending on the size of your family unit. Wrap in heavy foil and freeze.
________________________________________.
When time to prepare- preheat a cookie sheet and oven to 425.
Take bread out of the freezer at the last moment and separate slices. You may at this time sprinkle on top some dried parsley, or oregano, or cheese or whatever strikes your fancy on this particular day if you wish.
Open oven door carefully and place the flattest side of each piece on preheated cookie sheet. Be careful not to set yourself on fire. Aqua Net hair spray is terribly flammable.
Bake for 5-7 minutes and enjoy. The flat side will be toasted and the top side will be moist and buttery.
NOTE: I suppose day old French bread would slice easier and cleaner and taste just as well. I just have never tried it and always do it this way.