"A simple delicious Gulf Arabian sweet. perfect with coffee or tea. Dates have always been of prime importance to survival in the desert. They are an ideal food, relatively cheap, easy to transport, and provide excellent nutrition. Recipe modified from The Complete Middle East Cookbook by Tess Mallos. Edit: This has been revised March 15, 2010 I don't use measuring spoons & cups so my guess of butter was off and has being corrected."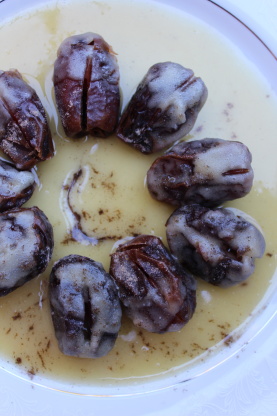 Bedouin Fresh Date Sweet (Rangina) (Gluten Free)
1 recipe photo
Directions
Remove pits from the dates and arrange on small plate.
Melt the butter in a saucepan and stir in the flour.
Cook over medium heat stirring constantly, until the flour turns a light- medium golden brown.
Remove from heat and stir in the cardamom.
Allow to cool slightly, stirring occasionally.
While still pretty warm pour over the dates and allow to cool to room temperature before serving.
Serve with coffee, or tea if preferred.
Enjoy!