"Posted by request. Every Italian family has their own version of this dish. My grandmother made it with a simple garlic/cheese "stuffing", which is the same way I still make it. It can be served as a main course or as part of the "meat course" along with the meatballs, sausage, etc."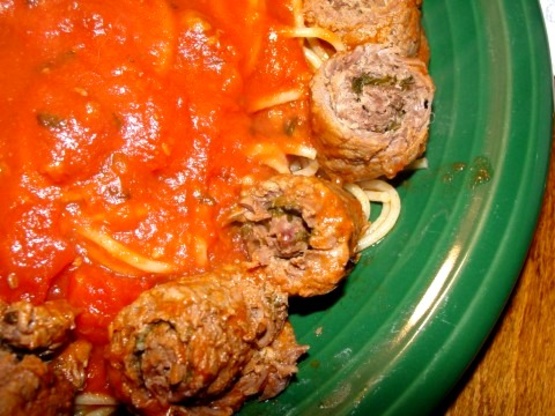 Beef Braciole
1 recipe photo
Directions
Using a very sharp knife,"butterfly" the steak (or have the butcher do it).
Pound the steak with a meat mallet until its about 1/4 inch thick.
Lightly season the meat with salt and pepper.
Spread the minced garlic, minced parsley and cheese evenly over one side of the meat, to within a 1/4 inch of the edges.
Starting with the long edge, tightly roll the meat up (like for a jelly roll).
Tie the rolled meat tightly every few inches along the length of the roll, with the cord (make sure the ends of the roll are tied well).
Heat olive oil in a heavy frying pan, add braciole and onion.
Fry the meat, turning it frequently until evenly browned.
Add the browned braciole to the pot of simmering tomato sauce to finish cooking (about 45 minutes).
To serve, remove the cords and slice the braciole into 1 inch slices.
Spoon some sauce over the slices.