"Something my DH came up with. Lancanshire relish sauce is similar to worcestershire but sweeter (they use fruit in the cooking process). It took 2.6kg (5 3/4lbs) of gravy/shin beef to get 2kg (4 3/8 lbs) and 600grams (21ounces) of skirt to get 500grams (17.6 ounces)(Trimmed of fat and grissle). The cup measurements for the vegetables is peeled, cut/diced. Prep time is based on you doing this, buying predone will save time but you could do what I did and got the kids involved DS and DH and had them doing the peeling and dicing while I did the rest. Sometimes it took longer but the memories are irreplaceable."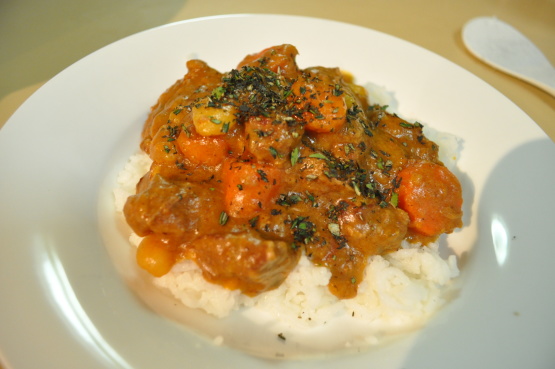 Beef Curry (Oamc)
3 recipe photos
READY IN:

5hrs

SERVES:

12

UNITS:

US
Directions
Preheat oven to 150 degree C (300 degree F).
Peel and dice vegetables.
Mix curry powder, mustard powder and sugar together.
Trim and dice meats into large bit size pieces.
Coat meat with seasoned flour (best way I found is to put flour in a large bowl and in batches put the meat in to be coated, shake of excess and cook that batch continue to all meat used).
In a heavy duty pot (suitable for oven) put in oil (enough to cover bottom of pot) and over medium/high heat cook meat in batches to seal, set to one side, keep warm covered with alfoil or use a casserole dish with lid.
Wipe pot clean (to get rid of burnt flour).
Heat 2 tablepoons oil over medium high heat, cook potatoes and sweet potatoe for 10 minutes. Turn heat down to low.
Remove potatoes with slotted spoon onto a plate and put to one side.
Add more oil if required and turn heat up to medium/high and add onion and saute till soft. Turn heat to low.
Remove with slotted spoon and add to potatoes.
Over medium heat add curry powder, mustard powder and sugar mixture and the garlic cook till fragrant (about 1/2 to 1 minute).
Add vegetables to curry mixture and cook for 2 to 3 minutes of medium/high heat.
Now add the meat and mix well with the vegetables.
Add carrot, beef stock, tomatoes, lancanshire (or worcestershire),fresh herbs, cayenne pepper, chilli powder and ginger powder. Mix well together.
If meat and vegetables are not covered in liquid, top up with water and stir.
Put lid on pot and put into oven for 3 - 4 hours, till meat is tender, stirring occassionally.
Just before serving add extra tablespoon of fresh herbs (chop just before using).
Serve with rice.