"Is there anything better than homemade enchiladas? My family doesn't think so! We like them mild but you can use mild, medium or hot sauce, depending on your taste. This recipe yields 12 large enchiladas; 6 in each dish. An uncooked dish can easily be frozen for enjoyment at a later date. Just bring the chilled dish to room temperature before cooking."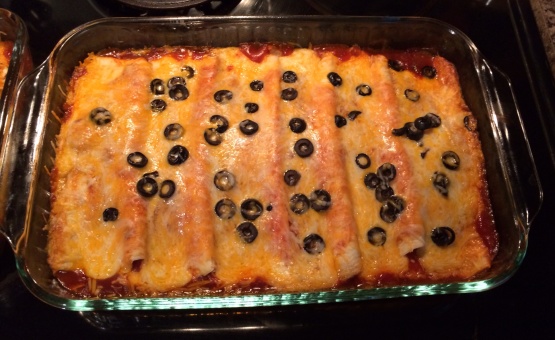 Beef Enchiladas
3 recipe photos
Directions
Preheat oven to 350 degrees.
Spray bottoms & sides of two 9"x13" baking dishes with non-stick cooking spray; coat bottom of each dish with 1 cup enchilada sauce; set aside.
In large skillet, brown ground beef; add salt & pepper, drain and set aside.
Place cheeses in medium bowl and mix together.
Place chopped onion in small bowl.
Place browned meat in a medium bowl; rinse and wipe the skillet for re-use.
Place the skillet back on the burner on a very low setting. Fill with 2 cups enchilada sauce.
In a deep skillet, heat the oil over high heat. Use enough to be about 1" deep. The oil is ready for frying the tortillas when the edge of a tortilla dipped in the oil sizzles on contact.
Using tongs, place a tortilla in the hot oil, turning it quickly so it doesn't burn (don't worry if it starts to bubble).
Remove the fried tortilla to the skillet containing the sauce and lay it flat. Using tongs, flip it a few times to coat both sides with sauce. The tortilla will become very limp.
Place the fried saucy tortilla into one of the baking dishes. Prop it open to receive fillings.
Fill with approximately 1/4 cup meat, 1 tablespoon chopped onions and 1/2 cup cheese.
Using your hands (be careful, it will be hot), fold the tortilla around the fillings and place it seam-side down into the dish to form an enchilada. Repeat until all tortillas have been fried, sauced and filled.
Once the dishes are full of enchiladas, divide the remaining sauce between the two dishes and pour enough of it over the enchiladas to barely cover them.
Spread the cheese down the center of the enchiladas in each dish, dividing the cheese equally between the two dishes. (Use as much or as little of the cheese as you wish.).
Sprinkle the black olives over the cheese.
Bake for approximately 30 minutes or until bubbly. (Watch that the cheese doesn't burn. If it starts to brown too much, cover loosely with non-stick aluminum foil.).
Let stand for 15 minutes before serving.
get the genius kitchen app.
Watch on your iPhone, iPad, Apple TV, Roku, or Fire TV.
Learn More