"This is a simple recipe from the Better Homes and Gardens magazine. It's simple enough for kids to make, tastes good and is vegan to boot! I have made it as written but prefer it with some chocolate covering, whether truffle, chocolate flakes or dipped in melted chocolate."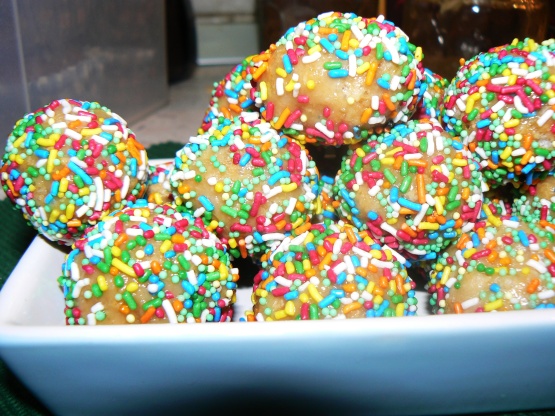 Beehive Snacks- Peanut Butter Honey Balls
1 recipe photo
Directions
Combine icing sugar, peanut butter and honey in a small bowl.
Add Rice Krispies (Rice Bubbles) and mix well.
Put non-pareils in a shallow bowl.
Make small balls from the mixture and toss in the non-pareils.
Put onto lined tray and refrigerate for an hour until firm.
Store in the fridge for a week.
You can toss them alternatively in grated chocolate or chocolate sprinkles etc.
NB: I found that the balls were a bit dry and the non-pareils didn't stick easily. I first dipped the balls into a mixture of 1 tablespoon of honey and two tablespoons of water, and then into the coating. This worked well for me, but I believe my peanut butter wasn't very oily which is why the mixture turned out a bit stiff. If you see that your balls are a bit dry, I recommend the extra step.