"This recipe is my own version, modeled after my own apple pie. Usually, this is made using ingredient amounts that basically include a pinch and a dash, a squeeze and a scosh. Finally, I made myself slow down and kind of measure everything out so that I could post it here. These are, of course, approximate. I've written this to make four individual crisps, the way we eat it, but if you want to make one big crisp, just add 10 minutes to the baking time. I don't use nuts, but if you want to add some nuts such as pecans to the topping, just replace about a 1/4 cup of the oats with them. Also, I'm not a huge fan of very sweet desserts - this even pushes the limits for me. If you prefer sweeter desserts, increase the sugars in the filling to your taste."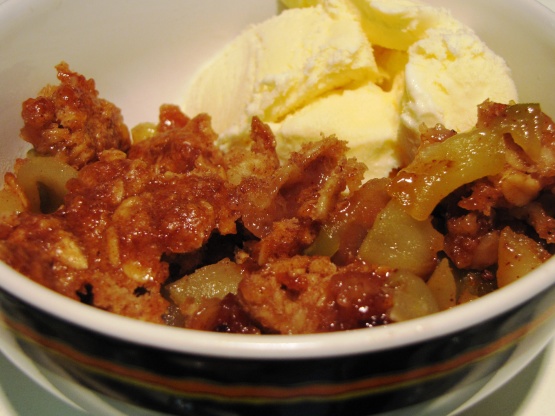 Bek's Baked Apple Crisp
6 recipe photos
Directions
Preheat the oven to 375°F Butter 4 individual casserole dishes. (If you choose to make one large crisp, you'll increase baking time by about 10 minutes.) I often forget the butter. No biggie.
I love to cook, but hate doing dishes, so I make this all in one pot. In a medium pot (NO HEAT!) combine apples and lemon juice and toss well to coat. Add in the rest of the filling ingredients, brown sugar, white sugar, flour, cinnamon, nutmeg, and cloves. Stir well to combine, breaking up any lumps of sugar or flour.
Pour equal amounts of apple mixture into the four casseroles. They should be about half full. Set aside.
In the same pan (see? one less bowl to wash!) melt the butter over medium lo heat. Once butter is melted, turn off heat.
Add in remaining topping ingredients: oats, flour, brown sugar, cinnamon, salt, and nuts if you're using them. Stir to combine well, again, breaking up any obvious lumps of sugar or flour.
**The topping should not be "wet", but if it seems TOO dry, and the butter does not seem to have coated all of the oats, then add in an additional tablespoon of butter. It won't hurt anything.
Pour mixture equally over the apples in each dish. They should be almost full, but not overflowing.
Place the dishes on a cookie sheet, just in case the filling does overflow. Bake for 30 minutes (40 if you're making one big crisp).
Allow to cool, serve with milk, whipped cream, or vanilla ice cream.