"Simple easy to make chicken stock made from chicken bones, and scraps; and a few staple vegetables."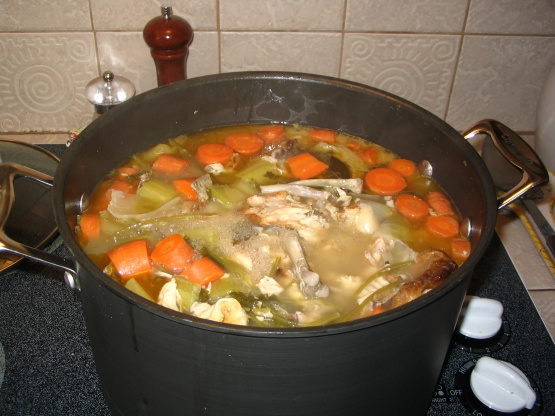 Best Chicken Stock
1 recipe photo
chicken bone (2 one gallon bags, filled with saved up,I store mine in the freezer, or chicken scraps)

2

stalk celery, chopped

2

carrots, chopped

1-2

bunch parsley stems

2

onions, quartered

3-5

bay leaves

11352.0

ml water

salt and pepper
Directions
When you have saved enough chicken bones, its time to make a good rich stock.
Throw all the bones into a large stock pot (at least 12 qts.).
Chop up the celery, carrots, onions, and put into the pot.
Add bay leafs, and parsley stems. Fill with 10 to 12 qts of water.
Salt and pepper to taste.
Bring slowly to a boil and be sure to skim off the grey scum that will rise to the top.
Simmer for 3- 4 hours.
Cool and strain out all solids with a screen or cheese cloth.
Degrease by using a degreaser or let sit and fat will rise and form on top, skim off.
Great for soups, and a sautes. I always freeze some in ice cube trays for smaller recipes.