"I made these for Christmas and the entire tray was quickly demolished. People chose these over the fancier appetizers and I got compliments all night. They're great for Easter of course, parties, BBQ's picnics etc. There's wiggle room with this recipe depending on your preference & what you have on hand, so play around with it! **NOTE: I like to use medium eggs for a 2-bite finger food but large eggs work fine. I don't recommend larger than that. I buy mine as far in advance as I remember so they peel easily, as fresh eggs are hard to peel. I use Martha Stewart's simple, fool-proof method of boiling the eggs.**"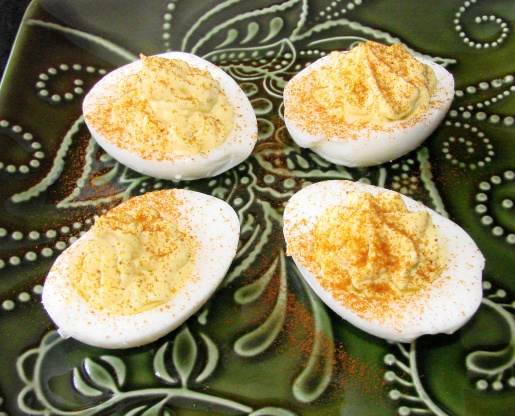 Best Deviled Eggs
2 recipe photos
Directions
Slice eggs carefully and remove the yolks into a bowl by gently squeezing the egg. Mash the yolks thoroughly with a fork. ***THIS STEP IS VERY IMPORTANT FOR A SMOOTH FILLING. Do not add any ingredients to the yolks until they're finely pulverized or else you'll end up with lumps.***.
Add remaining ingredients (minus paprika) and mix very well. Taste and adjust ingredients to taste.
Put filling into an icing bag* and pipe the filling into the center of the eggs pulling a little up toward the top of the white for an evenly distributed filling.
Garnish with a light sprinkling of paprika. Refrigerate until use.
* If you don't have an icing bag: take a ziplock bag and cut 3 small slits in one corner with a scissor. Add filling and pipe out of the corner of the bag. (You can also use a small spoon to dollop in the filling if you don't want to get too fancy.).