"For this recipe I strongly suggest to use fresh not frozen thawed wings as frozen will hold in too much water --- you may use 2 tablespoons minced fresh garlic in place of garlic powder but the fresh garlic tends to burn while cooking, the choice is up to you or you may use both the powder and fresh garlic, the butter will firm up only slightly when chilled but will melt and blend in with the other ingredients when baked --- plan ahead the wings need to marinate a minimum for 8-24 hours, overnight is better -- these wings are delicious!"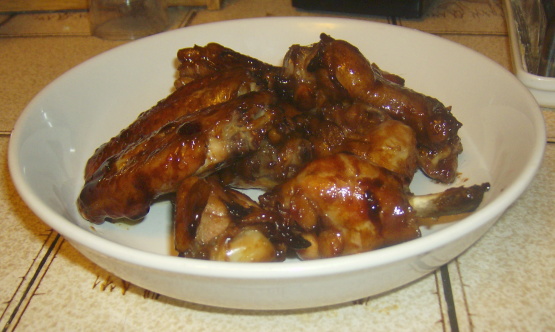 Best Sticky Chicken Wings
6 recipe photos
Directions
In a large bowl mix together first 8 ingredients until well combined.
Add in wings; toss to coat (make certain to cover the wings completely with the sauce).
Refrigerate for 8-24 hours (24 hours is better).
Set oven to 350°F.
Set oven rack to lowest position.
Place the wings on a large greased jelly-roll pan.
Bake for about 25-30 minutes or until cooked through.
OPTIONAL: for a crispy skin broil under broiler heat for about 4 minutes (can turn if desired).