"The base for this recipe was originally from Allrecipes but I've changed the recipe to suit my breadmaker and taste. When I made my first loaf of this I couldn't believe I had made something that looked and tasted like a commercially produced loaf. NOTE: My ABM is older and takes 2 1/2 hours to do a dough cycle. The times include rising time also."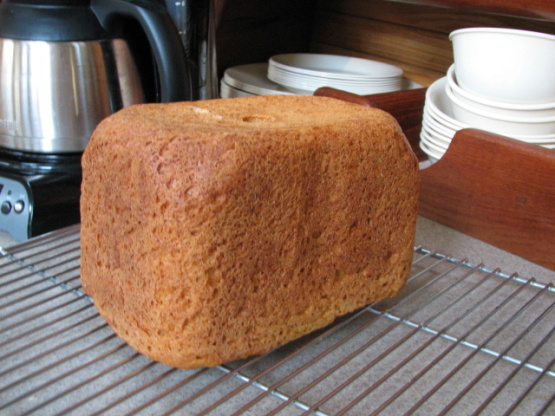 Best White Bread (Abm)
4 recipe photos
Directions
Place the ingredients into your ABM in the order specified for your machine. Set it on the dough cycle.
When the dough cycle has beeped, LEAVE the dough in the machine for another 30 minutes. It will continue to rise again.
Preheat your oven to 190°C Grease a 9x5x3 loaf pan with butter.
Tip out your dough onto a lightly floured work area and roll into a long rectangle, making sure the width is no wider than 9 inches and about 1/2 inch thick. It doesn't matter about the length. You will hear all the air bubbles popping as you roll.
Once the air bubbles are gone, roll up, starting from one of the short ends. You may want to moisten the end of the dough to help seal it together.
Place roll of dough, seam side down, tucking ends under, in your loaf pan.
Leave to rise until doubled in size, approximately 30-40mins. Brush with melted butter.
Bake 190C for 30 minutes or until the loaf sounds hollow when tapped with the handle of a knife.
While loaf is hot brush with melted butter.
Remove loaf from pan onto a cooling rack.