"This recipe was originally posted by Kiss--My--Tiara, a friend of mine. She's a great cook and a very funny person. I haven't made this recipe, but here's what she had to say about it: "A Zeppole is NOT a fritter, a donut hole or a funnel cake. They are better. This is a typical Italian New Jersey Zeppole recipe. These can always be bought in pizzerias or on the boardwalk.""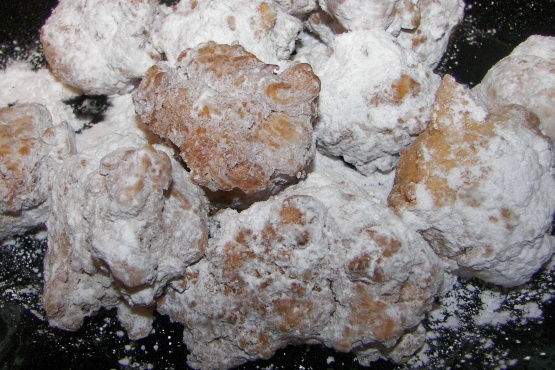 Bethany's Jerseygirl Zeppoles
3 recipe photos
Directions
Mix the flour and salt in a large mixing bowl with a wooden spoon.
In another large bowl, empty the yeast package, then slowly add the warm water, mixing with a fork to fully dissolve the yeast.
When the yeast mixture forms some bubbles, add the mixture to the flour/salt, then add the three eggs.
Mix the batter, then set the bowl on top of your refrigerator (or other warm place), cover with damp dish towel.
After 20 minutes, check the dough for rising, mix again and let rise for another 20 minutes.
In a saucepan, heat the oil to medium heat.
Add the dough by the spoonful (about the size of 2 golf balls) Experiment with the first batch to make sure the oil is not too hot.
Remove when golden brown and place on paper bags to absorb the oil.
Place warm Zeppoles in a paper bag with powdered sugar and SHAKE.
You want them well covered with the powdered sugar.
These are messy.
If yours are not messy, you need more sugar on them.