"This is the Chocolate Chip Cookies recipe from the Betty Crocker card file system, and more specifically from the green file from 1971, which the recipe was classified as Men's Favorites #22. I have seen many, many requests for this particular recipe in the Recipezaar Question & Answer forum. I knew about the recipe (from prior requests). To be helpful, I visited the Betty Crocker website and used their search option to find it whenever someone else asked for it again. And I would just post the recipe in the Q&A forum again. Well, that recipe is getting more difficult to find (as it seems that, with improvements to the webiste, older recipes just get buried even deeper!). So I thought I would post the recipe here, to make it more accessible on the Zaar site, especially for all the fans of the Betty Crocker recipe card files. I haven't made these myself, so I guessed on the prep time."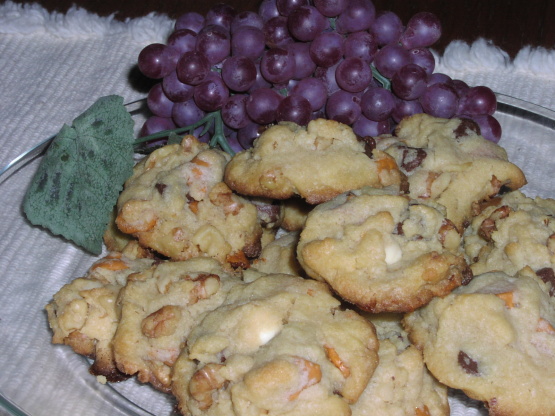 Betty Crocker Chocolate Chip Cookies (1971-Men's Favorites #22)
5 recipe photos
Directions
Heat oven to 375° degrees.
Mix thoroughly shortening, butter, sugars, eggs and vanilla. Blend in remaining ingredients. (For a softer, rounder cookie, add 1/2 cup flour.)
Drop dough by rounded teasponfuls 2 inches apart onto ungreased baking sheet. Bake 8-10 minutes or until light brown. Cool slightly before removing from baking sheet.
NOTE: If using self-rising flour, omit soda and salt.
For Salted Peanut Cookies: Substitute 2 cups salted peanuts for the chocolate pieces and chopped nuts. Before baking, flatten each cookie with bottom of glass that has been greased and dipped in sugar.
Betty's note: ( Red Spoon) To bake fresh cookies on short notice, keep a supply of cookie dough in the freezer. Wrap it in an airtight freezer container, aluminum foil or plastic wrap. Thaw it until just soft enough to spoon onto baking sheet. Both cookie dough and baked cookies can be frozen and stored from 9-12 months.