"We have a lovely lady at my workplace that spoils us rotten. She will make cookies in our kitchen and come around with these little treats mid mornings. She makes the cookies with margarine - the recipe calls for butter. The recipe also called for 1/2 cup walnuts in the last step which I have omitted."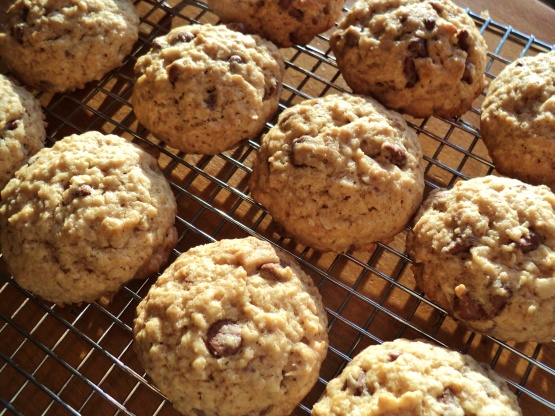 Betty's Banana Chocolate Chunk Cookies
2 recipe photos
Directions
Preheat oven to 375°F.
Whisk together flours, salt and baking soda in a bowl.
Cream butter and sugar until fluffy, reduce speed to low.
Add egg and vanilla, mix until combined.
Add banana.
Add flour mixture and mix until just combined.
Stir in oats and chocolate by hand.
Line baking sheets with parchment paper and using ice cream scoop or spoons drop cookies onto sheets, spacing 2 inches apart.
Bake until golden and just set, for about 12-13 minutes.
Cool on sheets for 5 min before transferring to wire rack to cool completely.