"This is a combination of several recipes I've tried for blueberry muffins. The real key is the yogurt - use your favorite fruit flavor! it doesn't have to be blueberry, i've made it with raspberry and other flavors with great results. its great for experimenting with new flavors."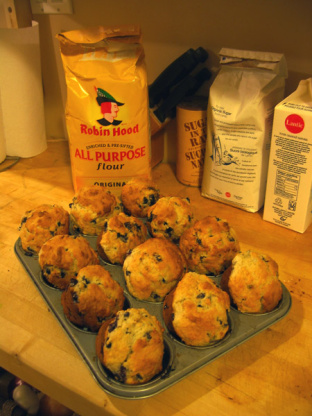 Big Blueberry-Busting Muffins
2 recipe photos
Directions
Preheat oven to 375 deg.
Grease a 12-cup muffin tin.
Mix flour, oats, baking posder, baking soda and salt.
In a seperate bowl, beat butter, sugar and eggs until smooth.
Add half of the dry ingredients to the wet, and half of the yogurt; mix until just combined.
Add the remaining dry ingredients and yogurt, mix together.
When they are almost combined, begin folding in the blueberries (gently, so they don't get squashed).
Fill the muffin tins (they will be very full, which makes for great big muffin-tops).
Bake for 25-30 minutes, or until a toothpick comes out clean.
I've had the best results with frozen berries because they stay solid during mixing. Just makes sure you give them a rinse in hot water to get all the ice off them, and even thaw them a bit. Also, dry them off before adding them (you don't want extra moisture).