"I lived in Big Sur off and on for about 10 years and my heart is still there. I adapted this recipe from 101 Cookbooks. Heidi Swanson says, "The Big Sur Bakery sits back off California's famous Highway 1 a bit, nestled next to a gas station. It's owners, three of them, abandoned the Los Angeles restaurant scene years ago, determined to turn a property with a lackluster track record into something special. They set their sights on a house-turned-abandoned-restaurant, eventually wrangling it into what is now the beloved Big Sur Bakery. This is a recipe from Terry "Hide" Prince, one of the bakery's earliest friends. If you can imagine a dense, seed and grain-packed English muffin, you're in the ballpark. Rather than using salt, Terry gathers kelp from the coast and uses it to season the bread. The key to enjoying these delicious little breads (and I can't emphasize this enough), is splitting them open, toasting them until they are deeply golden, then slathering them generously with butter (or drizzling with olive oil or honey). Then sprinkle with a bit more salt. Blissful buttery crunchiness." Terry Hyde, the creator of the recipe says, "There's no need to be intimidated by making my bread. It was born out of a sea voyage, from Hawaii to New Zealand, because it was easier than yeast bread. I used my friend, Jay's, Irish soda bread recipe, only I added my own super foods. Amaranth, millet, and quinoa all have the 8 essential amino acids for building muscle, flax seeds for digestion, and kelp or seaweed for vitamins and minerals. I keep a 5 gallon pickle bucket with my dry bread mix, adding whatever sounds healthy. You can substitute water for milk or beer, and spelt for a gluton free bread." There have been mixed reviews on this, so please realize this is a dense bread and please do toast it!"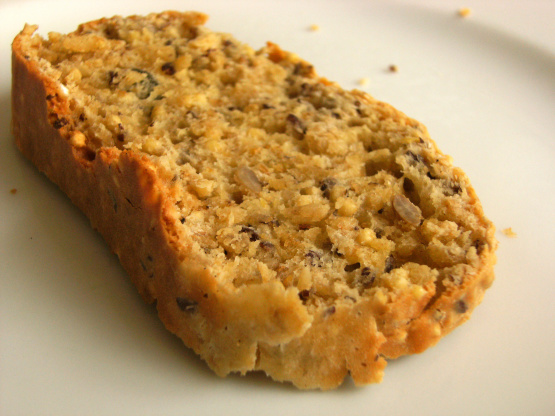 Big Sur Bakery Hide Bread Recipe
1 recipe photo
READY IN:

1hr 10mins

YIELD:

15

4

UNITS:

US
4 -5

cups all-purpose flour, plus extra flour for dusting (start with 4 cups, you may sub 1 cup whole wheat flour or spelt flour)
1⁄2 cup whole flax seed, slightly crushed (in the food processor works great-you just want to crack the flax, not grind it)
1⁄2 cup sesame seeds

2

cups oat bran (may sub wheat germ)

1⁄4 cup sunflower seeds
1⁄2

cup millet (or amaranth, quinoa, or poppy seeds, or any combo of these)

2

tablespoons dulse flakes (or 1 teaspoon kosher salt or sea salt or kelp powder)

1

teaspoon baking soda
1⁄4 cup good quality beer plus 2 tablespoons beer (you may sub water or milk for the beer)
2 1⁄2 cups buttermilk (or half-and-half, milk, or water or almond milk-my personal favorite)
unsalted butter, softened for serving
Directions
Adjust the oven rack to the middle position and preheat the oven to 350*F.
Line a baking sheet with parchment paper if desired.
Place all the dry ingredients in a large bowl(start with just 4 cups of flour, and add the 5th -if necessary- after the liquids have all been mixed in) , stir them together, and make a well in the center. Add the beer and the buttermilk. Mix with a wooden spoon until a thick, wet batter forms. Sprinkle a layer of flour over the top.
Turn the batter onto a lightly floured surface and roll it into a loose log about 2 inches in diameter. Cut it into 1 1/2" thick slices and pat them down(don't pat down too much) with your hands to form patties. Place the patties on the baking sheet and bake them for 40-45 minutes, until golden brown. Let them cook completely.
To serve, slice each patty in half, toast it well, and smear with butter
Note:
A sprinkling of salt works wonder here. Make sure to toast it well to totally make sure the inside is done. Hide bread is similar to an English muffin in that if you don't toast it, it'll taste raw. Enjoy!
Makes about fifteen 4-inch patties.