"I have recently gotten into baking bread, and I have been looking for a good bread. I found a recipe for a flax and fiber loaf, but it was too small for me. Here is my take on that recipe."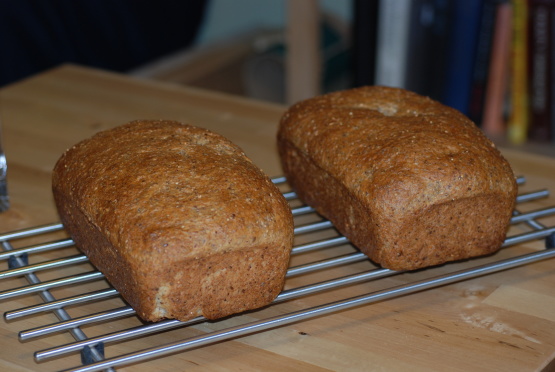 Bill's Flax and Fiber Big Bread
2 recipe photos
Directions
Mix 1/4 cup of Very Warm Water with 2 Tablespoons of yeast, set aside.
In a large mixing bowl mix 4 cups whole wheat flour, 1 cup all-purpose flour, 1 cup flax seed meal, 1/2 cup wheat bran, and 1 1/2 tablespoons vital wheat gluten.
In another large mixing bowl, mix 1 3/4 cups hot water, 1/2 cup brown sugar, 1 tablespoon salt until dissolved.
Add dry ingredients 1 cup at a time, until about half of the dry ingredients are mixed inches.
Add the softened yeast, and mix, followed by the oil, and mix again.
Add the dry ingredients, 1 cup at a time, until it gets difficult to stir, then hand mix.
When the dough pulls away from the sides, turn out, and knead until all dry ingredients are incorporated. You should need to add more whole wheat flour, until the dough is smooth, and a little tacky, but it doesn't stick to the surface. (around 1 cup of flour will be needed, but add it a little at a time, or you may make your dough too dry).
rub your mixing bowl with oil, and place the dough in it.
Cover with plastic wrap (optional), and a tea towel (not optional) and let it sit for 45 minutes to 1 hour, until dough at least doubles in size.
separate, punch down and form into loaves (or rolls), place on baking sheet, cover with plastic(optional) and a tea towel (not optional) and let sit again for 45 minutes to 1 hour, until it at least doubles in size.
preheat the oven to 475 Degrees Fahrenheit.
Bake for 27 minutes, until the bread sounds hollow when you tap it. (flip it over and tap to bottom too).
Let cool on cooling racks for at least 10 minutes before cutting.
get the genius kitchen app.
Watch on your iPhone, iPad, Apple TV, Roku, or Fire TV.
Learn More