"Courtesy of Billy Reech from Billy's Bakery, NYC. as seen on www.marthastewart.com Several reviewers have mentioned that the recipes directions were different from the video. I originally copied it from Martha Stewart's web site and it appears that it is incorrect on her site. I checked out the video and have since corrected this recipe to the videos directions. Another error on Martha Stewarts web site was the amount of baking powder so I have also changed the amount from 2 to 1 tablespoon. The recipe, as posted on the site specifies that the recipe makes 30 cupcakes......Billy (in the video) stated that it makes 3 1/2-4 dozen. To view the video just go to www.marthastewart.com and enter the name of the recipe in the search engine. Frost cupcakes using
Billy's Vanilla Buttercream
or
Billy's Chocolate Buttercream
."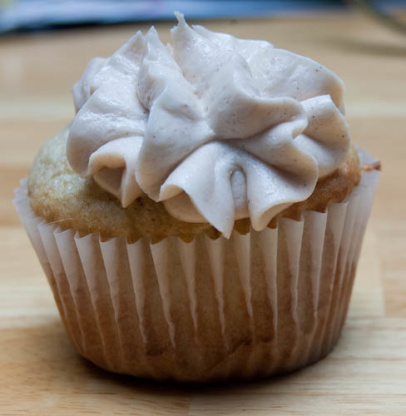 Billy's Vanilla, Vanilla Cupcakes
2 recipe photos
Directions
Preheat oven to 325°. Line cupcake pans with paper liners; set aside.
In the bowl of an electric mixer fitted with the paddle attachment, combine flours, sugar, baking powder, and salt; mix on low speed until combined.
Add butter, mixing until just coated with flour.
Add eggs, one at a time.
In a large glass measuring cup add milk and vanilla.
With mixer on medium speed, add wet ingredients in 3 parts, scraping down sides of bowl before each addition; beat until ingredients are incorporated but do not overbeat.
Using an ice cream scoop for even cupcakes, divide batter among liners, filling about two-thirds full.
Bake, rotating pan halfway through, until a cake tester inserted in the center comes out clean, 17 to 20 minutes.
Transfer to a wire rack to cool completely. Repeat process with remaining batter.
Once cupcakes have cooled, use a small offset spatula to frost tops of each cupcake.
Decorate with sprinkles, if desired. Serve at room temperature.