"OK, not birdseed really. Just reminds me of it. We love this for it's nutty flavor. It is a very substancial bread and makes a great piece of toast. I use 1 more T of millet and sunflowerseeds each and use rolled 6 grain instead of oats for us."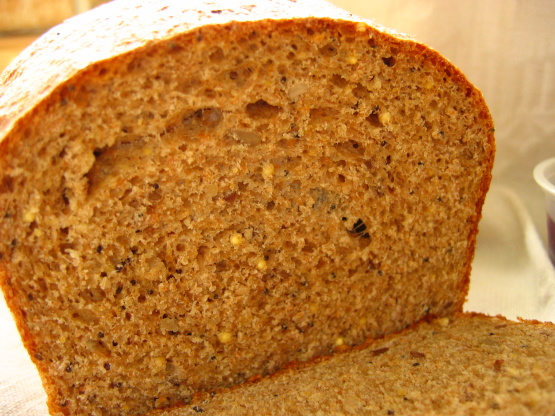 Birdseed Bread
7 recipe photos
Directions
Dissolve yeast in warm water and 1/2 T sugar.
Add salt, honey, margarine, and buttermilk.
Then add all seeds, corn meal, and rolled oats. Then whole wheat flour and oat flour.
While its mixing slowly add the bread flour. You may need more or less of the bread flour, just enough till nice and elastic. Knead well by hand or with mixer.
Place in a sprayed bowl and cover with a towel. Let rise till doubled. This is a heavy bread and may take awhile, placing in a warm place will aid this.
Punch down and divide in 1/2.
Shape into loaves and place in greased pans, cover, and allow to rise till doubled again.
Bake in 375 preheated oven for 30 minutes or till tops are browned and bottom sounds hollow when tapped.