"After searching the web thru what seemed like a gazillion variants of the same recipe, I noted a few common ingredients and added few twists. I hope you enjoy my take on everyone's favorite jerky!"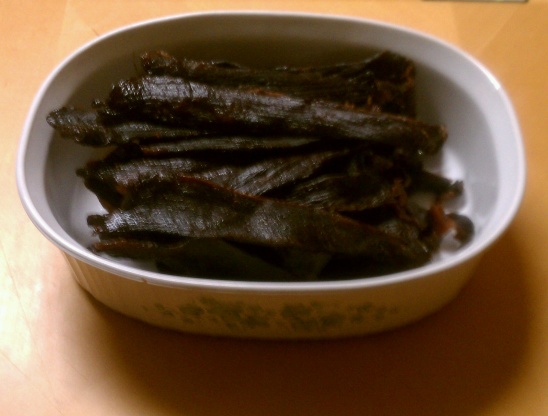 Bishop's Teriyaki Beef Jerky
1 recipe photo
Directions
Add all wet/dry ingredients into a small saucepan. Heat to boiling while whisking ingredients to blend. While marinade cools, cut sliced carne asada meat into 4 inch strips. Should be no more than 1/4 inch thick.
Marinade meat strips for 12+ hours.
Lay marinated meat strips on dehydrating trays of your dehydrator unit, following manufacturer's directions to complete.
For oven drying, hang marinated meat strips from top rack of oven using bamboo skewers. Cover bottom rack with aluminum foil to catch drippings. Dry in oven at lowest setting (~170º propping door open slightly to release moisture) for 5-8 hours. Check meat now and then to ensure proper drying. Meat should be dried and flexible to bend in half without breaking. Enjoy!