"This is a cuban recipe. It is basically boiled steaks in red sauce."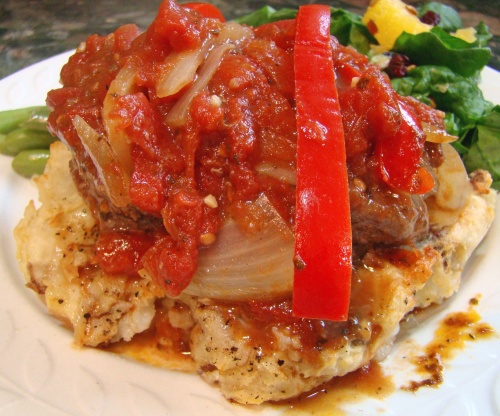 Bistec En Cazuela
4 recipe photos
Directions
Heat the oil in a medium skillet. Add sliced onion and bell pepper, when onions are translucent add the minced garlic. Lower the heat and saute until bell pepper slices are soft. Do not brown.
Add tomato sauce and puree. Stir well bring the heat to medium high.
When the mixture stars bubbling lower the heat; cook for 10 minutes stirring frequently.
Add the cup of wine and mix well.
Add the oregano and cumin powders and the bay leaves.
Add 1 teaspoon salt and pepper to taste. Simmer for 5 minutes.
Spray the bottom of a heavy Dutch oven with Pam.
Sprinkle the steaks with salt and pepper and place them on the bottom of the pan. Pour the sauce over adding a cup of water.
Simmer until the steaks are tender. If it starts drying out, add small amounts of water when necessary. This can be cook faster in a pressure cooker. Place the grid from the pressure cooker on the bottom of the pan, spray with Pam. Proceed just as above.
Cook 20 minutes after the pressure is obtained.
Serve with white rice.