"This easy recipe will make either type of chocolate ice cream with no custard to cook with or without an ice cream maker! Prep time includes 50 mins of pre chilling. Please note that both myself and the first reviewer got "micro chips" of chocolate instead of it being entirely smooth. I don't know if that will happen all of the time OR if it will happen with the white chocolate. We both enjoyed the tiny chips very much though."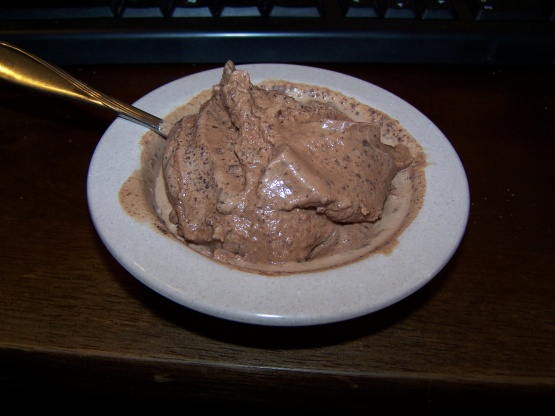 Bittersweet or White Chocolate Ice Cream
1 recipe photo
Directions
WITH ICE CREAM MAKER:
Heat milk (stove or microwave) until it just begins to bubble.
Meanwhile, process chocolate in a food processor or blender until the chocolate is finely chopped.
Mix chocolate and sugar.
Combine hot milk and chocolate mixture and blend until chocolate is melted and the mixture is smooth.
Cool.
Once cool, stir in heavy cream and vanilla.
Chill for at least 50 minutes.
Pour mixture into your ice cream maker.
Mix in ice cream machine for 25-30 minutes or according to manufacturer's instructions.
WITHOUT ICE CREAM MAKER (general instructions for all recipes):
Mix up the ice cream recipe as directed.
Pour the ice cream mixture into a wide, airtight container, metal bowls work best. Make sure the bowl you choose is wide rather than tall. A wide bowl aids freezing and allows you to mix your ice cream easily.
Place ice cream in refrigerator for at least 1 hour. Ice cream will need to be in fridge longer if the mixture has been heated and cooked. Ice cream must be well chilled before proceeding.
Place the chilled ice cream mixture in the freezer for 30 minutes.
Beat ice cream mixture with an electric mixer until smooth. The edges of your ice cream should have started to thicken. Scrape the edges with a fork or spatula and beat with an electric mixer to add air to the mixture and break up ice crystals. You can use a fork instead of an electric mixer, but the ice cream will be less smooth and creamy.
Place ice cream in the freezer for 40 minutes - then beat with an electric mixer.
Repeat "40 minute freeze-then-beat cycle" 3 times.
This should total 2 1/2 hours of freezing.
You can choose to either beat your ice cream mixture every 40 minutes until frozen or let your ice cream mixture freeze on its own.
Either method works fine. The more you beat it, the softer it will be.
Total freezing time can take anywhere between 3-5 hours.
If you want to add mix-ins to your homemade ice cream, wait until the ice cream is thick enough to "hold" the mix-ins so they don't fall to the bottom of the container.
Generally, add mix-ins after 2-3 hours of freezing.
get the genius kitchen app.
Watch on your iPhone, iPad, Apple TV, Roku, or Fire TV.
Learn More