"I found this in the January 2009 Good Housekeeping. I cooked chicken thighs to make homemade broth so I'd have more chicken broth for other recipes instead of using reduced-sodium chicken broth, and I didn't have poblano chilies so I used jalapenos. I had black beans already cooked in the freezer so I didn't use canned. The cilantro and lime juice make the recipe very flavorful...the soup would be bland without them. There are other recipes for Black Bean Tortilla Soup posted, but this one is another variation. Hearty and filling..."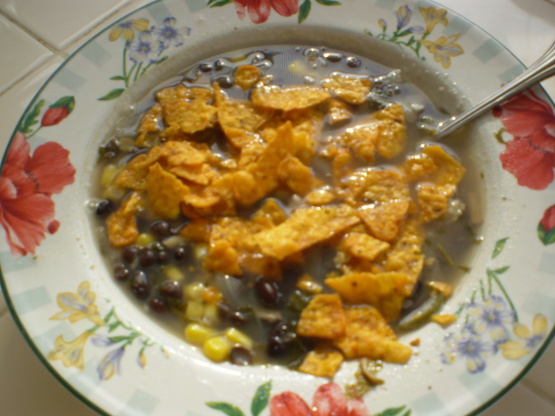 Black Bean Tortilla Soup
2 recipe photos
Directions
In a 6-quart saucepan, heat oil on medium-high until hot.
Sprinkle chicken with 1/2 teaspoon salt.
Add chicken to saucepot in 2 batches, and cook 5 minutes per batch or until lightly browned, stirring occasionally.
With slotted spoon, remove chicken to medium bowl once it is browned.
After all chicken is browned, add onion, poblanos, and garlic to saucepot.
Cook on medium 10 minutes or until vegetables are lightly browned and tender, stirring occasionally.
Stir in cumin and coriander and cook 1 minute.
Add broth and water. Cover and heat to boiling.
Return chicken and any juices in bowl to saucepot.
Stir in frozen chicken and black beans.
Heat to boiling on medium-high and reduce heat to medium-low.
Simmer uncovered 10 minutes to blend flavors.
Stir in lime juice and cilantro.
Ladle soup into bowls.
Serve with tortilla chips for sprinkling on top of soup.