"I came up with this recipe trying to make a version of Dave & Buster's Black Jack Burger, but with a twist. D&B is my son's favorite place to eat and the BJB is what he ALWAYS orders. He and I both loved them and we hope you do too! By the way... I didn't measure as I was making them so the the measurements listed are a guesstimate (my best guess). *** A note... I made these again last night for DS and his friend but we didn't have any pickles. Pickles are a must, without them the burgers are just not the same!"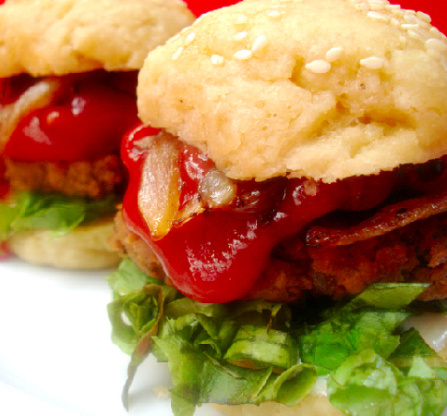 Black Jack Sliders (Mini Burgers)
1 recipe photo
For the Burgers

1 1⁄2 lbs ground beef

4

tablespoons barbecue sauce, to taste (Jack Daniels, (or more)

McCormick grill seasoning (1 palm full)

1⁄4

cup plain breadcrumbs

9

dinner rolls

Burger Toppers

4

slices bacon
barbecue sauce (Jack Daniels)
pickle (bread and butter)
Directions
Pre-heat oven to 400 degrees.
Place bacon on a broiler pan and cook for 10 - 12 minutes, until crispy.
Meanwhile,Combine ground beef with 4T BBQ sauce, grill seasoning and bread crumbs.
Form into small patties and using your thumb, form a deep indent into the center of each patty (this prevents them from shrinking).
On an indoor grill, grill patties over medium heat until both sides have grill marks.
Remove the bacon from the oven and lower the temperature to 350 degrees.
Transfer sliders to the oven and cook for 4 - 5 minutes.
Remove the sliders from the oven and top with condiments and serve.